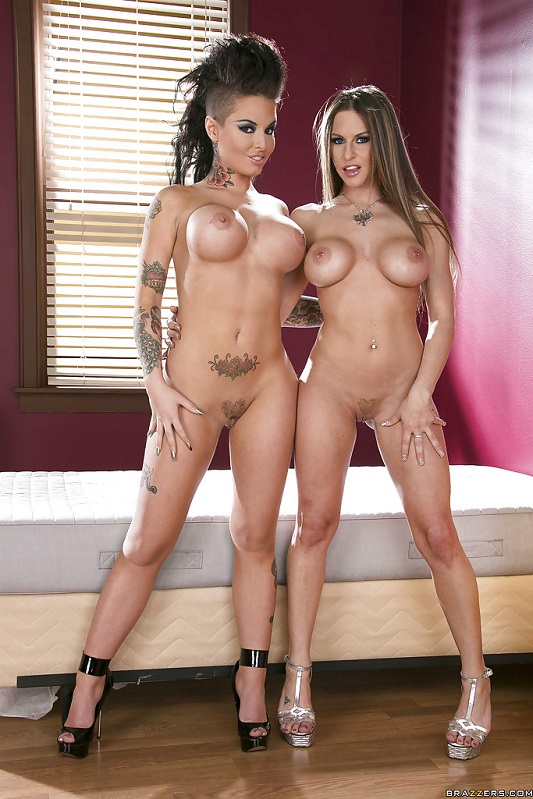 Christy and Rachel had been friends ever since grade school. By the time they reached high school they were both sexually active. The gender of the partner made no difference to them.
When they graduated from high school they both enrolled in City University. They didn't really want a secondary education. They just wanted to go there because they'd heard the students were all so sexually promiscuous.
They weren't seeking knowledge on how to have a career, not unless it had to do with furthering their slut training. College life was nothing but an orgy. Getting a degree – any degree at all – was merely a side benefit.
It didn't take long before the two girls were the hit of the Phi Omicron Ro Nu fraternity. They didn't care whether or not they became members of the sorority on campus. If the guys were willing to fuck despite them not being sorority bitches then that was all right with them. And if they got to lick a little pussy on the side, so much the better.
Christy and Rachel lived for the next orgasm. A day didn't go by without them seeking some sort of pleasure. Many predicted they wouldn't live very long. At the rate they were going they were liable to burn themselves out before they reached 30.
It wasn't long before the two girlfriends came to the same conclusion. They were eating each other out late one night when Christy brought up how their lifestyle was going to kill them one day, perhaps as a result of a heart attack. Rachel figured it would be a great way to go, dying in the midst of one of the greatest orgasms of her life.
After settling down to catch their breath, Christy asked her friend how she'd like to go out. "With a cock up my cunt or ass," Rachel declared. "That way I would die a happy woman. What about you?"
"I'd love to go out with a cock up my ass and your tongue in my twat."
"I agree. Wouldn't that be heavenly?" And with that the two sluts sighed before going back to feasting on each other's dripping cunts, their passions having been aroused all over again.
It wasn't long before the idea began to take root of how one day they might deliberately get themselves snuffed. Christy kept wondering how she could arrange to go out with a bang. It didn't occur to her that Rachel was thinking the exact same thing.
One Saturday afternoon they attended a fraternity barbecue. There was lots of sucking and fucking involved. Both sluts were in heaven.
The highlight of the barbecue was when a sorority girl was voluntarily spit-roasted – at least they were told she'd volunteered. Christy and Rachel watched as the woman twisted over an open fire, spitted from ass to mouth with a stabilizer up her cunt. Her arms and legs were secured, and for good measure her tits were skewered.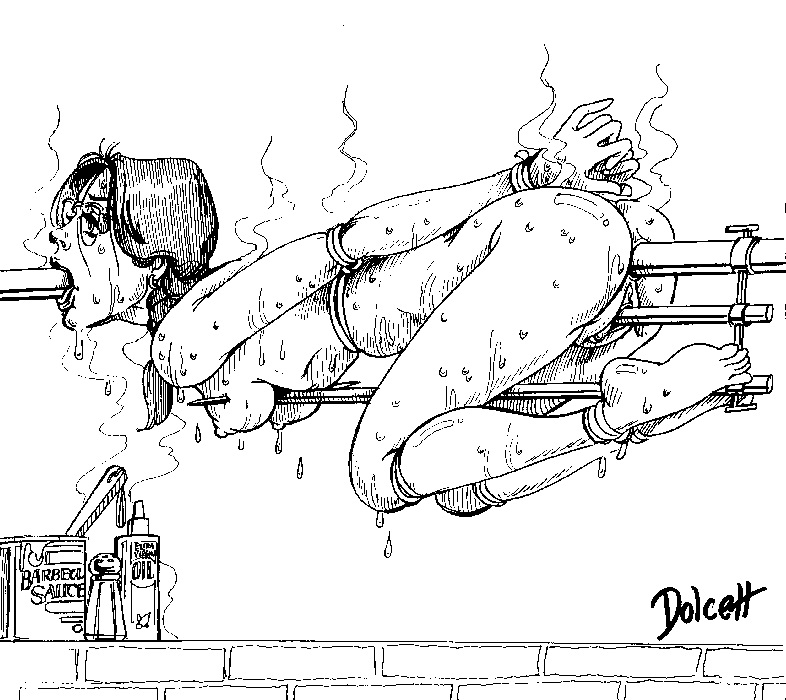 Later that afternoon the two girlfriends dined on girl-meat, right along with everyone else. But they couldn't get the image of the roasting woman out of their heads. The girl was still alive for the first few minutes. And it looked like she was wriggling and squirming… cumming up a storm.
When they got back to their room later that evening the two sluts attacked each other with strap-ons. They eventually confessed how hot the whole damned afternoon had been. And watching that sexy bitch cum on the spit had been incredibly erotic.
"What do you think?" Christy asked her girlfriend. "How hot would it be to go out that way?"
"Fucking hot!" Rachel declared. "I can't imagine anything hotter right now. Did you see how many times she orgasmed on that spit? She came four times that I could count."
"I counted five," Christy corrected her. "Fucking hot is right. And the way we all ate her after she was well done? I don't know about you, but I came the minute I bit into some of her meat."
"I did too. And did you see the reaction of all the other sluts from the sorority? They acted like it was so fucking hot! And the fraternity boys loved it! I lost count how many times I got fucked kneeling in the grass in sight of that spit."
"So what do you think?" Christy asked. "Would that be a great way to go out or what?"
"I don't know," Rachel mused thoughtfully. "Roasting over an open fire like that?"
"With a huge steel cock fucking you from ass to mouth into oblivion? What's not to love?"
"I'd love to have your tongue up my twat while the flames are licking my flesh."
"I'd love that too." Then at the same time they both blurted out, "I wonder if there's a way to make that happen?"
They looked at each other in surprise over the way they'd been thinking the same thing. Then Christy grabbed their double-ended toy. "I'm so hot just thinking about it that I need to share a fuck right now!" And with that they went at it, sharing the double-ended dildo until they fucked themselves silly.
—
Two weeks later the fraternity staged another barbecue. Christy and Rachel were the stars on display. They took on all comers, eager to turn the location into a full-fledged orgy.
They fucked as many of the fraternity members as they could take on. Even some of the sorority sisters gave them a good strap-on fucking. Then it was time to prepare the meal.
Christy and Rachel were both tied up. They were spitted in their asses, with stabilizers in their cunts. Both of them orgasmed the moment the spits penetrated their stomachs.
They were both in pain from having their ankles skewered. But they were terribly aroused at the prospect of the roasting to come. Then they were taken and put over the fire.
The fraternity barbecue master had made a special arrangement for the spit at their request. A few special modifications were made. Then the girls were roasted together.
Amazingly they were so close to each other that each one could reach the other's twat with her mouth and tongue. The two girlfriends went at it, licking and slurping like crazy. They heated up both literally and figuratively… and so did everyone who was watching.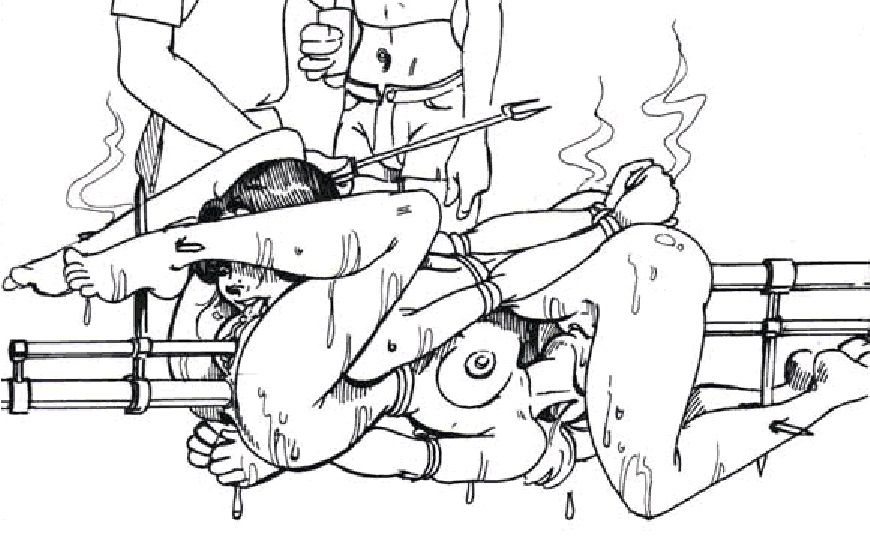 It wasn't long before several of the guys were getting sucked or were fucking at the arousing spectacle. Some of the sorority sisters were lustily eating each other out. On the spit Christy and Rachel kept licking and slurping until both started having orgasms.
After a while the heat began to take its toll. Rachel was tiring from the heat. But Christy kept licking orgasms out of her.
It finally got to where they couldn't lick and slurp anymore. Their bodies quivered on their spits. Rachel went first, shuddering quietly in orgasm as she slipped into oblivion. Christy was barely a minute behind her, orgasming her way into the great beyond.
Afterwards they were taken down, gutted and beheaded, and then put back on to finish roasting. There was more sucking and fucking that went on as the smell of barbecue filled the air. Then it was time to serve the girls. It turned out to be one of the best barbecues ever. And their sacrifice inspired several sorority members to volunteer to be future roasters.
2018 (written Dec 4 '18 by riwa)
(Dolcett drawings used for illustration purposes.)