I probably should have known it was going to come to this. But it was just too tempting. I was thinking with my little head instead of my big one.

At the beginning of the semester Kathleen Newberry came up to me in the cafeteria. She and her sister Connie were looking for a playmate. They'd heard through the grapevine that my sex organ was larger than normal.
I asked what she was interested in specifically. She said that she and her sister were looking for a fuck-buddy. Supposedly they picked some new guy to share every semester and they'd heard I was available.
I wasn't committed to anyone at the time. I was just playing the field. And Kathleen was kind of thin for my tastes. But I liked her sister Connie.
She said they only played together. That meant I was in for a semester of threesomes. Would I be interested?
It was kind of a stupid question, especially when my dick began to protrude through my trousers at her suggestion. Kathleen noticed and licked her lips. "We heard you had a big one, Milton. I guess they were right. We heard you were seeing a lot of girls, and I guess all that gossip was true."
That evening I arrived at the house they were renting as per their instructions. That night they showed me things I'd never experienced before. What's more, they were incredibly sexual with each other.
It wasn't long before I learned they liked asphyxia during sex. I began to choke them whenever I was fucking them. I thought it might scare them, but they really seemed to enjoy it.
Sometimes they would choke or strangle each other. Connie would strangle her sister while I was pounding her ass. And Kathleen would bag her sibling while I tried to inseminate her.
Sometimes we played in their large Jacuzzi tub. I would hold them underwater and fuck the shit out of them until bubbles came up. They both really loved that.
I thought they were taking things too far when they brought out the hangman's noose. They would spot each other while making the other one swing for a couple of minutes. I thought they were crazy, but they had some really powerful orgasms that way.
There were times I would fuck each one in the noose. No matter who was gasping, her cunt would clench unbelievably around my dick. I got to where I looked forward to using the noose.
About halfway through the semester they started asphyxiating me. At first it was only a little throat squeezing. It sure made my dick stiffen, especially while one of them was riding me.
It wasn't long until one sister would strangle me while I fucked the other. I'll admit it was a little unnerving at first. But eventually I got used to it, especially since it made me cum that much harder.
We tried a few plays in the Jacuzzi tub with me on the bottom. One sister would ride my cock while the other rode my face. Holding my breath was a little disconcerting. But the girls loved the way my dick emptied itself into them whenever I came underwater.
It didn't dawn on me until sometime later how much things had changed. They were still as slutty as ever. But now I was the one mostly being asphyxiated.
One time they tied me to a chair. The sisters took turns riding me while the other stood behind me and strangled me, usually with a sash to one of their robes. Being unable to breathe made me spurt even more, something they both loved as my cock was huge and I would spurt a lot.
They even tried bagging me a few times. I was tied spread-eagled to their bed as they took turns riding me. One would bag me while the other would cum up a storm.
A part of me always felt a little unnerved over the way they would deprive me of air. But the orgasms I had were so much more intense. So I went along with it. After all, I was getting to fuck two sisters on the same night.
As the semester came to a close they told me we wouldn't be meeting anymore. But they wanted to plan one last night of asphyxiation, sex and orgasms. I figured I might as well. To be honest, I was going to miss fucking a couple of uninhibited sluts like the Newberry sisters.
We got together for an evening of wild, uninhibited sex. There was plenty of asphyxia for everybody. Even the sisters got in on the act.
Connie strangled Kathleen while she rode my cock on the bed in a cowgirl position. Kathleen tied her sister to the bed and bagged her while I pounded her pussy. Both of them even took a couple of short rides in the noose while I gave each of them a flying fuck.
I probably shouldn't have let them tie my wrists behind my back. From there they led me to the room with the noose. Kathleen got a chair and placed it directly under the dangling coil.
"Ok, Milton," Kathleen said to me. "We've ridden the noose a lot this semester. Now it's your turn to give it a go."
"That's right, Milton," Connie added. "You owe us at least one noose-ride."
Naturally I was hesitant. "Girls, I don't know about this."
"But you owe us!" Connie whined. "How many times did we let you fuck us while we were hanging?"
"That's right," Kathleen chimed in. "We know it's going to make your cock nice and hard."
"I'll bet he spurts harder than he's ever spurted in his life."
"C'mon, Milton! We want to watch your cock get hard in the noose!"
"Yeah, give us a show! It's your turn now!"
"I promise to gag on your cock while you're in the air, Milton!"
"Me too, Milton! You know we're the 'gag sisters', right?"
To be honest, I was a little turned on at the thought of dangling in the noose for a few moments. After all, both girls had taken several noose-rides during the semester. I probably owed them at least one.
Connie cheered as I carefully climbed onto the chair. Kathleen got another and stood on it while adjusting the noose around my neck. Then she moved her chair well out of the way.
Kathleen looked at me and sighed. "You look good all noosed up, Milton. I am so fucking wet right now." She put her hand on my hip as she gazed at me with lust in her eyes.
"Doesn't he look great?" Connie added from behind me as she steadied me. "I could hook the chair with my foot and you'd give us a great dance, Milton. Would you like to dance for us?"
"Well, I don't know…" I was feeling an inordinate amount of concern at my dilemma. So I told them, "I feel a little unsteady up here."
"I'll fix that," Connie eagerly replied. A moment later I felt much of the slack being taken out of the noose.
I felt a jolt of alarm as my cock hardened right up. "That's perfect, sis!" Kathleen gasped, her eyes flashing. "Now we get to see his erection as he dances for us!"
"He's getting nice and hard all right. We don't need to touch him or suck him or anything!"
"What about that 'gagging on my dick' part?" I asked as my legs became a little rubbery.
"Oh yeah. That part's coming up. Better get started; eh, sis?"
The chair was suddenly jerked out from underneath me. It caught me totally off guard. The pressure on my neck instantly became unbelievable.
At first I stretched for something solid beneath me. But I couldn't find anything to stand on. I began to rasp for breath as I started to shimmy.
Kathleen looked at me and gasped, "Damn; that's hot! Isn't that hot, sis?"
"Fucking incredible!" I heard Connie gasp from somewhere behind me.
It really started to hurt. I found enough voice to rasp, "Isn't it… time to…get… me down?"
"You haven't done your dance yet; right, sis? He's got to dance for us first!"
"And then we gag on his dick! I can't wait to gag on his dick!"
Kathleen seemed eager. But I wanted her to take me down first. Then she could gag on my dick to her heart's content.
"C'mon, Milton? Where's our dance?" Connie sounded like she was getting impatient.
Instinctively I began to kick and dance. But it wasn't really my idea. My body just seemed to take off as though it had a mind of its own.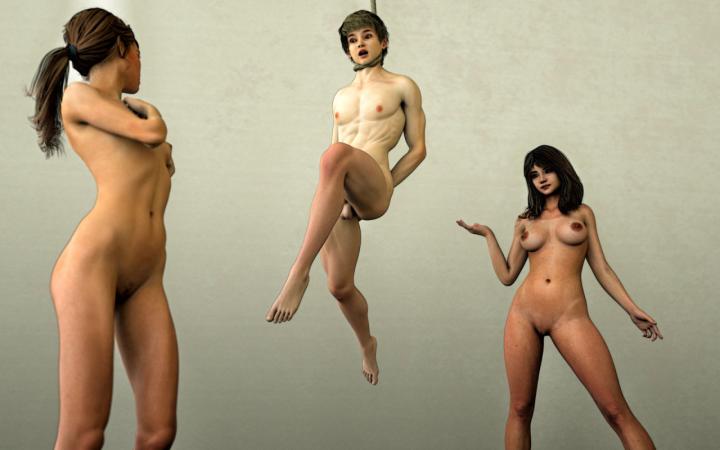 My cock stiffened until it was hard as a rock. I began to shimmy and shake as I twisted in the noose. It was really starting to hurt like hell!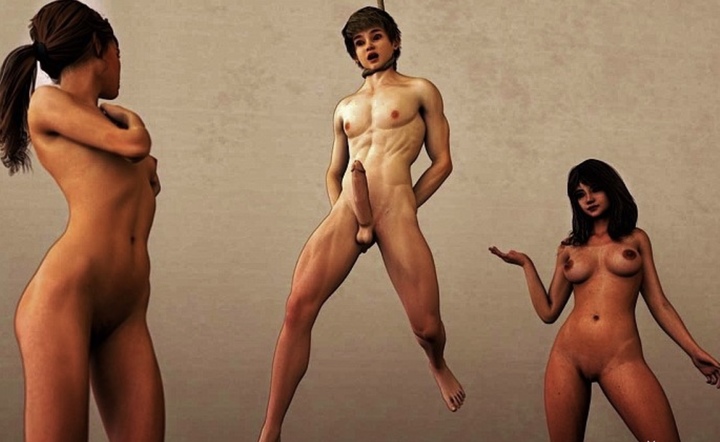 I tried to rasp for them to get me down. But I couldn't push any air out of my throat. There was a huge burning sensation in my chest.
Kathleen smiled as she said, "He looks way better than the last one."
"Dillon wasn't much of a dancer," Connie replied. "But he sure spurted a lot before he pissed himself."
"Yeah, but the mess he made on the floor was horrible."
"I'm not cleaning it up. If Milton shits himself, it's your turn."
"Hey, Milton; how's it going?"
"Ready for us to gag on your dick now?"
I could hardly make my lips move. My chest felt like it was on fire. There was such incredible agony around my neck that I prayed for relief.
My struggles lessened until I was hardly fighting anymore. Kathleen stepped up with a big grin on her face. "It's gagging time, sis!"
I was still doing a little shimmy when she grabbed my dick and swallowed it. I felt it hit the back of her throat until she gagged. Then she managed to swallow it down.
Connie appeared and pushed her sister out of the way. She took my cock into her mouth and gagged on it as well. I was hard as a rock.
I lost the feeling in my toes as a numbness climbed my legs. The sisters started taking turns gagging on my dick. A moment later I couldn't hold back.
A big blast hit Kathleen full in the face. Connie moved her over and got the next huge spurt. My dying cock emptied its last load on both their faces as they stood there grinning.
I was losing consciousness fast, my mind screaming for them to take me down before it was too late. Then Kathleen jumped onto me, impaling herself with my erection as we swung back and forth. The weight lengthened my neck, adding so much strain that I prayed for death.
She rode me for a few seconds, setting me to twisting and swinging as she fucked me hard. "My turn!" Connie's faraway voice declared. Then Kathleen climbed off.
Connie leaped on, finishing me off as she impaled herself on my erection. There was a faint crick, although I never heard it. She rode me with my dick up her twat until I oozed cream into her spasming, clenching cunt.
Afterwards the girls took turns gagged themselves on my cock until I softened. I ended up making a double mess on the floor. They just worked around it, taking me down and playing with my body until they got bored. I guess they disposed of me the same way they did Dillon. I never did find out what happened to him.
2020 (written Aug 5 '20 by riwa. Inspired by the renders I found and included.)