Elizabeth went down to the marina. She was eager to go out on a boat ride. There was nothing she wouldn't do to make it happen.
She saw a couple of guys coming toward her along the dock. "Going out on your boat?" she asked with a smile, batting her eyelids their way.
"Why?" the older one asked. "Are you interested in going out with us?"
"I sure am. Would you be willing to take me?" Then she lustfully eyed them both before adding, "I'd really be grateful."
"How grateful?" the younger one asked.
"Very grateful" and she licked her lips. The older one told her with that attitude she was more than welcome.
They boarded a nice pleasure boat and headed out of the harbor. Elizabeth promptly pulled off her top to show her appreciation. She was wearing a white bikini top that could not contain her large assets. And her red striped skirt was short enough to indicate there was more to her than met the eye.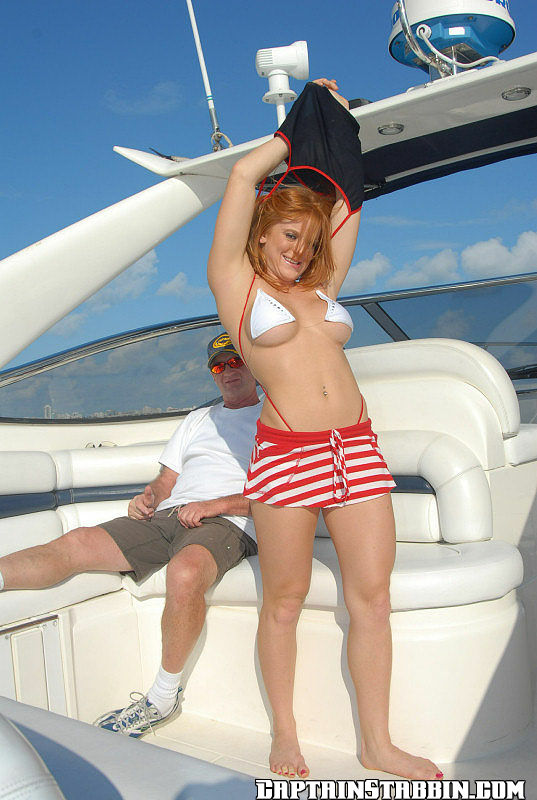 They got a few miles out of the harbor before they shut off the motor. "How thankful are you?" the older one asked again. Elizabeth promptly removed her skirt, revealing a red polka dot thong. Then she removed her top, exposing her tits.
He took her out to the end of the boat. He smiled as he asked, "What'll it be: sink, swim or suck?"
In response she helped pull down his shorts and underwear. Then she knelt before she started to suck. "Good choice," the younger one told her. "It's always a good idea to keep the Captain happy."
The older man shoved his cock in her direction. She hungrily wolfed it down. Being out on the waves was making her horny.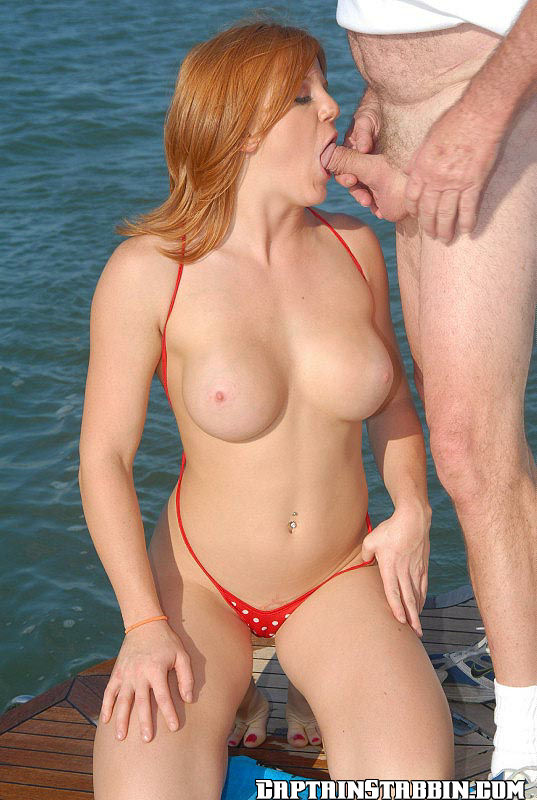 The boat gently rocked as she moaned and sucked. She grabbed on, making sure she could get it all into her mouth. A boat ride and a mouthful of cum was just what the doctor had ordered on a sunny spring day.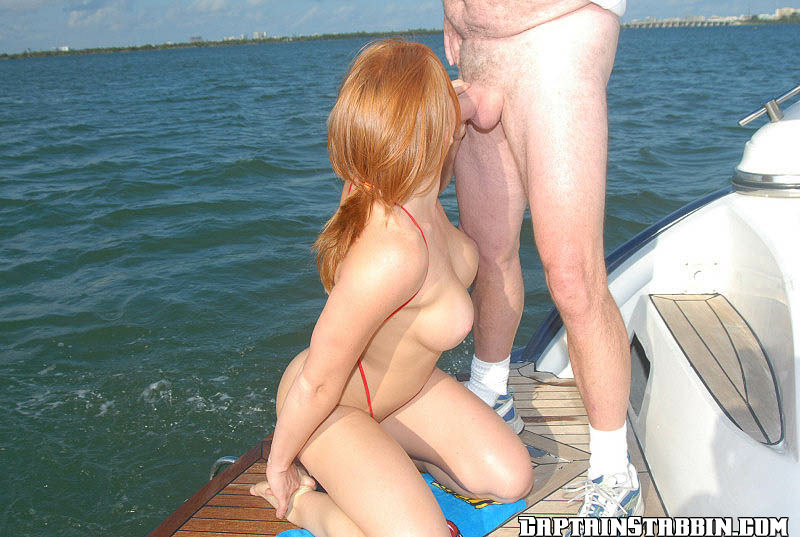 She spent several minutes attending to the Captain's cock. She loved the way it pulsed in her mouth. The smell of the ocean and the breeze on her nipples was making her randy.
He smiled as he told the younger man what a talented mouth she had. She just grinned. Then she eyed him as though he would be next.
The Captain began to gasp and stiffen. His cock twitched between her lips as his balls swelled. Then he cried out his release.
Elizabeth dutifully swallowed it all down. Then she lovingly sucked him clean. She was still horny. Besides, there was another cock to take care of.
"Permission to suck, uh…"
"He's my first mate," the Captain told her.
"Permission to suck your first mate, Captain?"
"Permission granted."
He'd already removed his shirt when she got back inside and went over to him. She began working his belt, eager to take it off. She wanted to see what he was working with.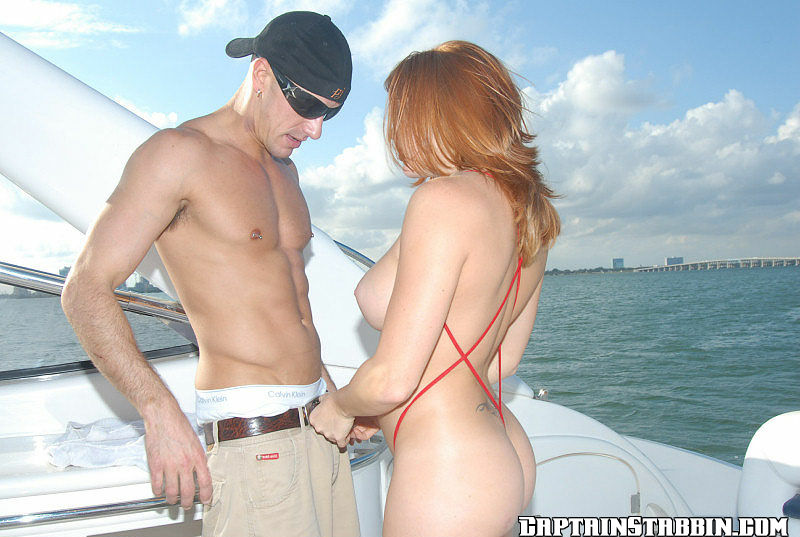 He sat down on a spot behind the wheel. Elizabeth promptly went to work sucking his dick. It was just as tasty as the Captain's.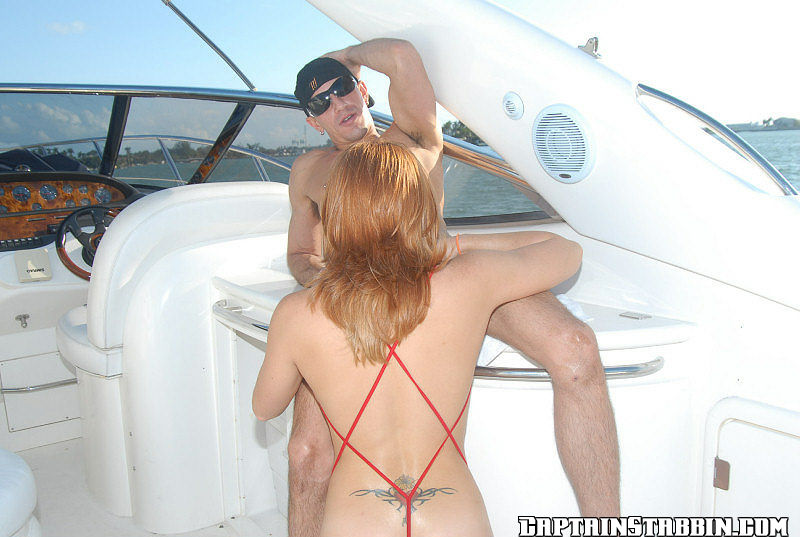 After a while Elizabeth was tired of sucking. She wanted the first mate's cock in a location much more intimate. So she finished getting naked before they went to the back of the boat where she climbed on and rode him reverse cowgirl.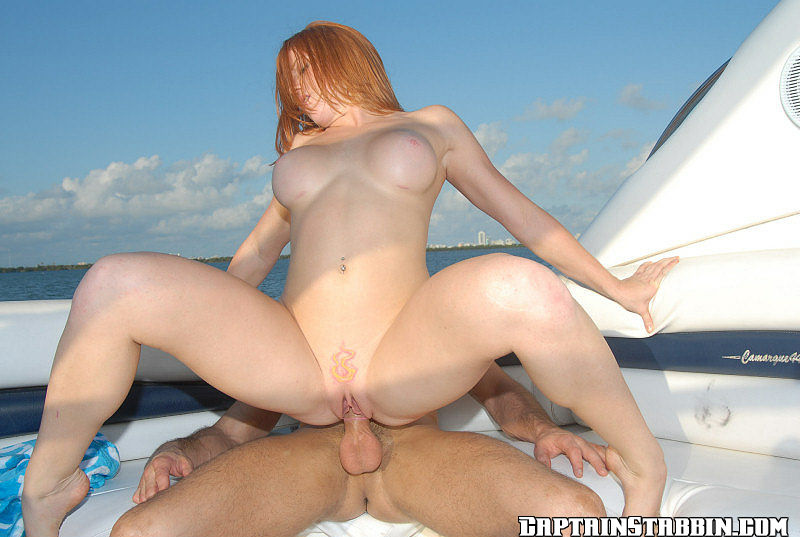 She gasped and moaned at the pleasure she was receiving. The way the boat rocked on the waves further enflamed her passions. The first mate was really enjoying himself.
After a while the Captain suggested they were at the rear of the craft so his first mate should check her "rear" as well. Elizabeth was only too happy to agree. She turned around and bent over as he thrust into her anal orifice.
"How is she, boy?" the Captain asked.
"Nice and tight, sir," he replied with a grin. Elizabeth moaned over how good it felt.
He fucked her like that for several minutes. Then he turned her over and fucked her on her back. Elizabeth lifted up her legs, enjoying the shafting she was getting.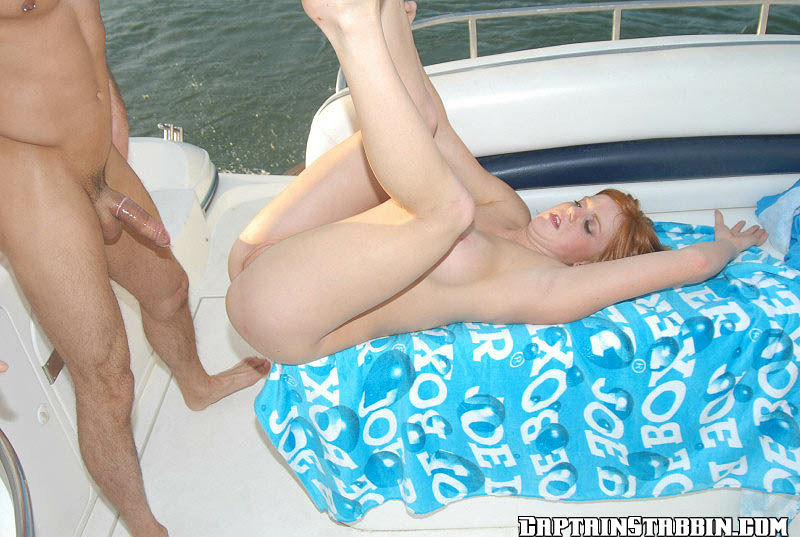 When they were finished fucking the Captain came over. He had some padlocks and chains in his hands. He was all smiles.
"Just for that you get a special reward, honey." Then he and the first mate chained her ankles together. When they were done they padlocked the chains to a small metal anchor.
"What's this?" she asked, no longer feeling as certain of her situation as before.
"You'll find out," the Captain told her with a smile. Then her arms were chained in front of her before a second padlock was added.
They carried her over to the side of the boat. "For being such a good whore, I'm giving you the keys to both padlocks." The Captain put them into the hands of the startled woman. Then they pushed her off the side of the boat.
She let out a cry before she was swallowed up in the gentle waves. Then she began to be pulled down. She was so astonished that she lost her grip on the keys in her hands.
The anchor pulled her downward as she struggled and thrashed about. Then she coughed her breath away. Elizabeth swallowed a massive amount of water which immediately triggered a set of intense convulsions.
Up at the surface the Captain and first mate looked down into the water. A few bubbles came up, marking where she'd gone down. Then more bubbles came flushing to the surface.
"You think she got those padlocks open, Captain?"
"I don't know. We'll give her another minute or two just to be on the safe side."
Down in the water Elizabeth continued to be dragged to the bottom. She kept hitching and gurgling, almost bending over from each convulsion. Then her struggles lessened as the anchor continued to pull her down.
Up at the surface the Captain checked his watch. "I don't think she's coming back up. It's been three minutes. Shame really. She was quite the slut." Then they started the motor before turning the boat around and heading back to shore.
(May 10 2019) (Inspired by pictures from CaptainStabbin.com.)
Elizabeth goes on a boat ride

,