Coming July rewards
More of the Jaime Club saga.
More of the Island of death row inmates.
Jamila says she's willing to go all the way.
Juney and Kimona visit Santamos Island for their own consensual situations.
Dorothy and her sister come over for a house warming party and get more than they bargained for.
Karma wants to be famous at the end with an underwater stunt.
Dolcetta has a special "fish" for her friend's birthday.
Her father lets her terminate one of their girls living arrangements.
A drowning story is inspired by vidcaps.
May stories/rewards will fall off at the end of June to make room for July rewards.
I have been making some adjustments to my new location. Mom is happy I'm so close now. On the bright side I'm not eating as much fast food as I did back in Idaho. Some expenses have gone down while others have gone up. So I hope to catch up on some debts while I can.
So thank you so very much for being my patrons. I really appreciate it.
10830 words – $6.50
From the keyboard of Richard "Riwa" Shepard comes a pair of new stories illustrated by JustPaul.
Lydia at the Mermaid Lounge – This story picks up right after certain events in the story Our Fantasy Weekend Getaway. Lydia has brought her shy friend Ava to the Mermaid Lounge for some fun. Can she get her into the lap dance tank, especially after watching another couple go in for a sexy little breath-holding romp? What will Ava think when she gets to watch another performance in the Deep Solo tank? (31 pages; 27 renders)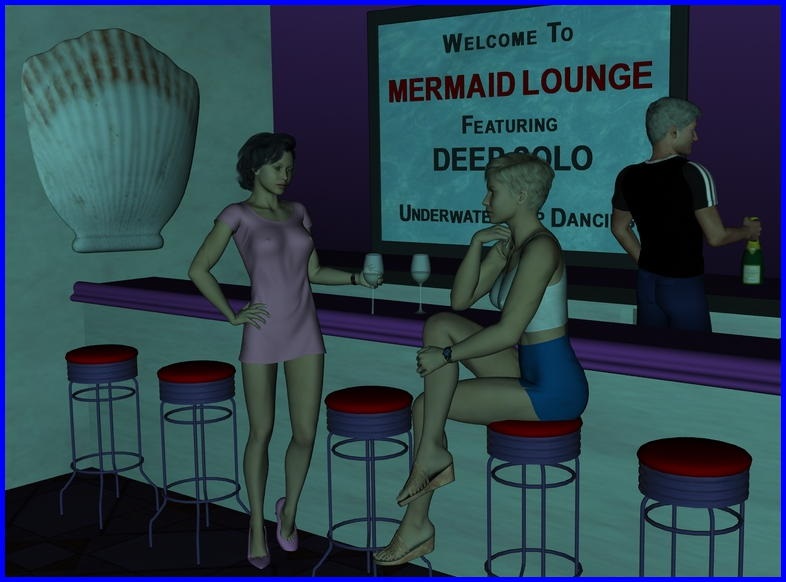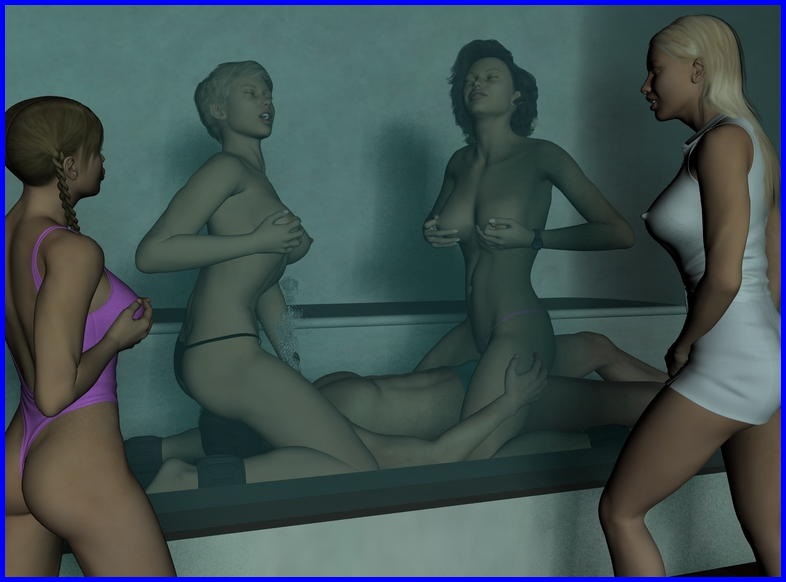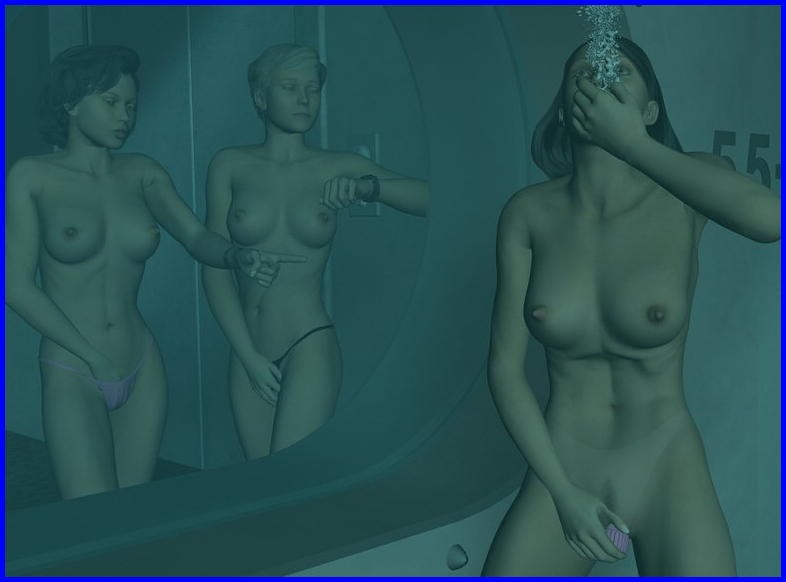 Incident at Cock Rock – Tamara has heard about the legend of Cock Rock. It's supposed to have an effect on female freedivers. But some females have never made it back out of the chamber. Is the legend true? Will she risk a swim on one breath of pure oxygen just to extend her down-time long enough to learn more about the legend? (15 pages; 24 renders)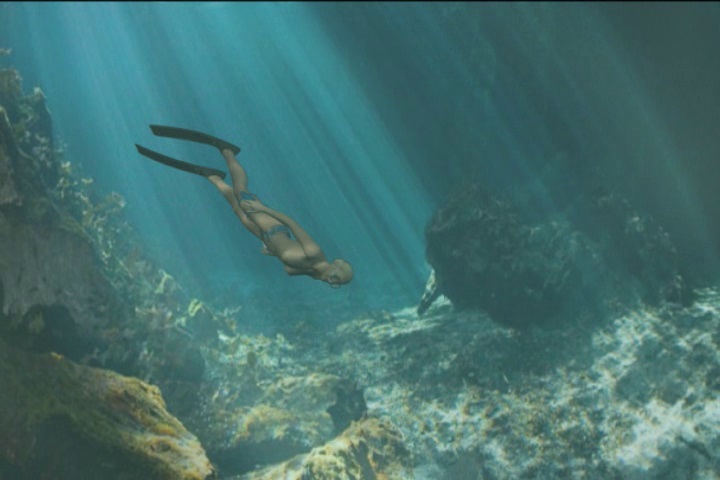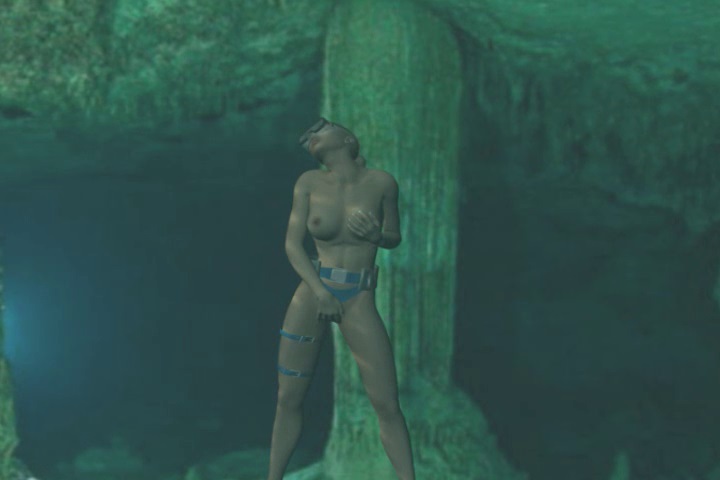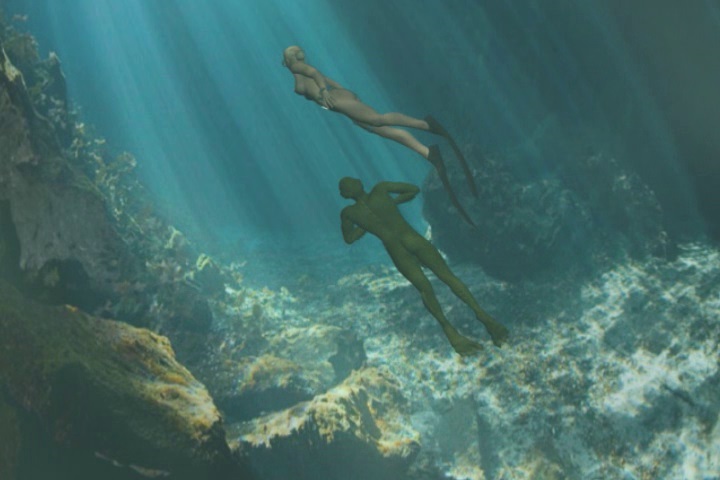 10898 – $5.00
From the keyboard of Richard "Riwa" Shepard comes the conclusion to the first Shelly series I did. I'm also including the connecting story I re-edited with Shelly in California.
Shelly 21 – Shelly gets one last special "arrangement" at the bottom of the pool to remember me by. (15 pages)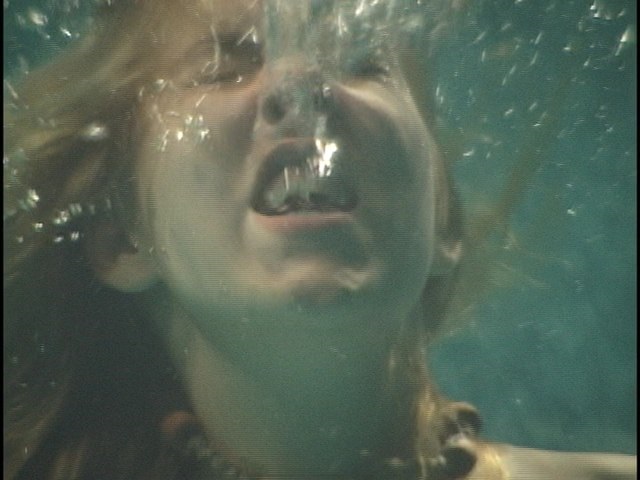 California Dreamin' – Shelly can't get him out of her mind. So she decides to re-enact one of their erotic sessions in the backyard pool belonging to her friends Andria and Stephanie. But what will happen when she forgets the key to her cuffs. Will fantasy become reality? (9 pages)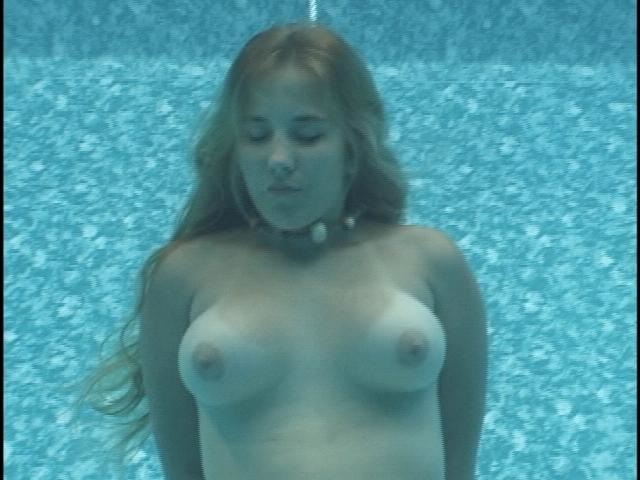 15417 words – $5.50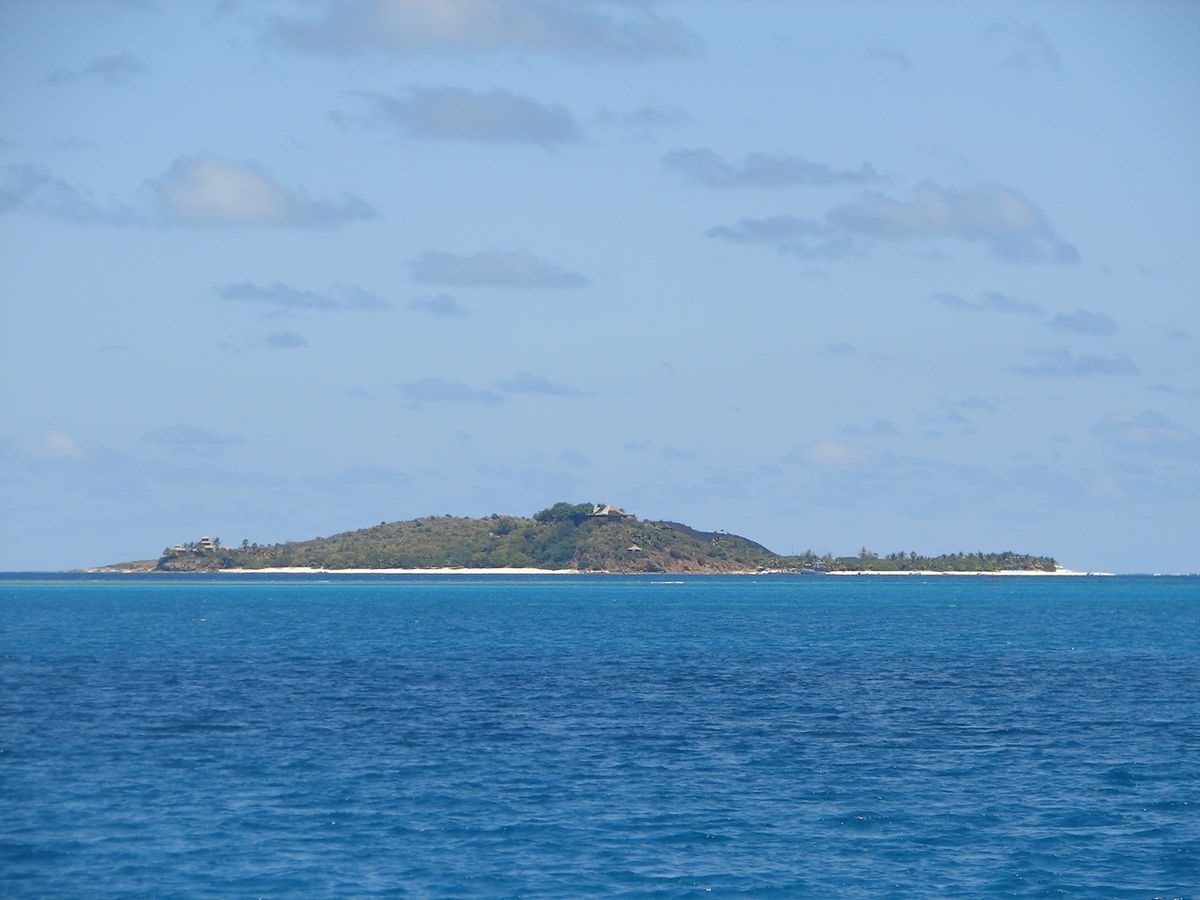 From the keyboard of Richard "Riwa" Shepard comes the continuation of a pair of long, older series recently edited, the Island of condemned Inmates and Jaime visiting the Club.
Island 15-16 – Karla and Eva want to take it out on Helen before they can even get to the dolphin tank for the next contest. Will she survive the "breath-holding lesson" they give her. If so, will she have the strength to swim the tunnels for the next elimination contest? (14 pages)
Jaime 19-20 – John and Jaime watch a commercial for the Club. That's when they begin to discuss among themselves the possibility of going. Her sister sends her an anniversary gift box for their visit to the Club. But will they get too carried away before they can even make it there on their anniversary night? (16 pages)
11457 words – $6.50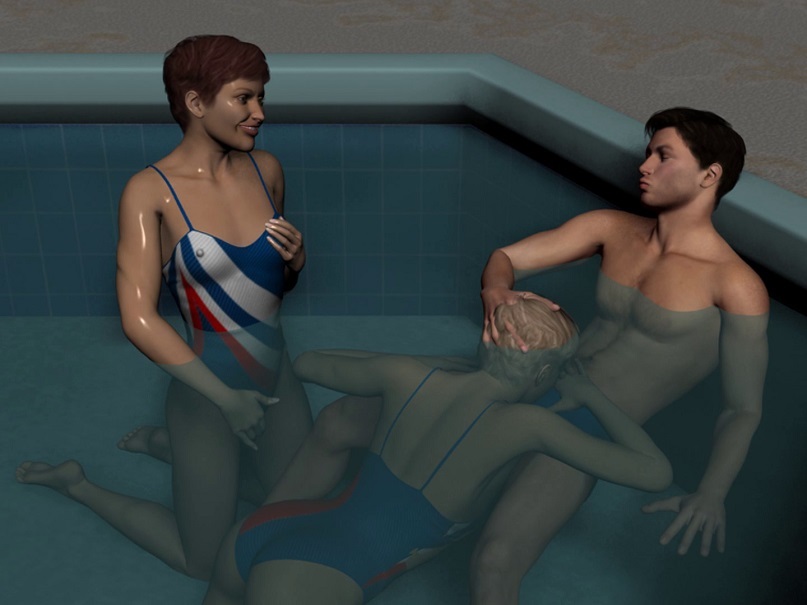 From the keyboard of Richard "Riwa" Shepard comes the conclusion of a story about an awkward trio, an underwater triangle that manifested in a rather unusual way. The second story is not finished, so I thought I would post this one and include a new trio story illustrated by JustPaul renders.
The good girl and the bitch 3 – Karen comes back down. Fran chooses to use toys on her while Steven watches because she asked him to stick around. Then Fran demands he take part in the erotic festivities. (12 pages)
Becoming a threesome – After a day of scuba instruction Vanessa uses the little indoor pool to relax. The last dive was rather unusual and she wants to get off before going home. But another female dive instructor comes in and catches her in the act. Will Vanessa allow Caroline to help get her off? What will she do when her boyfriend Paul shows up and catches her with another female? (20 pages; 19 vidcaps)
Bonus: Included is the video that inspired the threesome story, courtesy of JustPaul.
12254 words – $5.00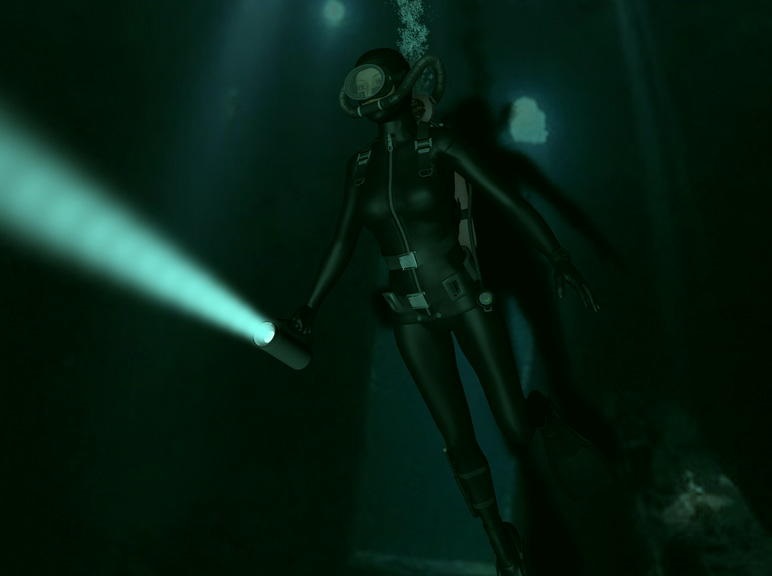 From the keyboard of Richard "Riwa" Shepard comes two older scuba stories.
A distracted, entangled diver – Emma is carefully mapping the bottom of the river for the marina she works for. But she thinks someone might be in the water with her. Then she encounters a bed of seaweed and allows herself to become distracted with a little erotic play, only to become dangerously entangled. (9 pages)
Scuba lusts – She meets him at a dive shop, needing a refresher course before meeting up with some friends for a dive trip the next day. He invites her to a pool for some private time, and since she is attracted to him she accepts. But the evening takes a turn she never expected. (11 pages)
23342 words – $6.00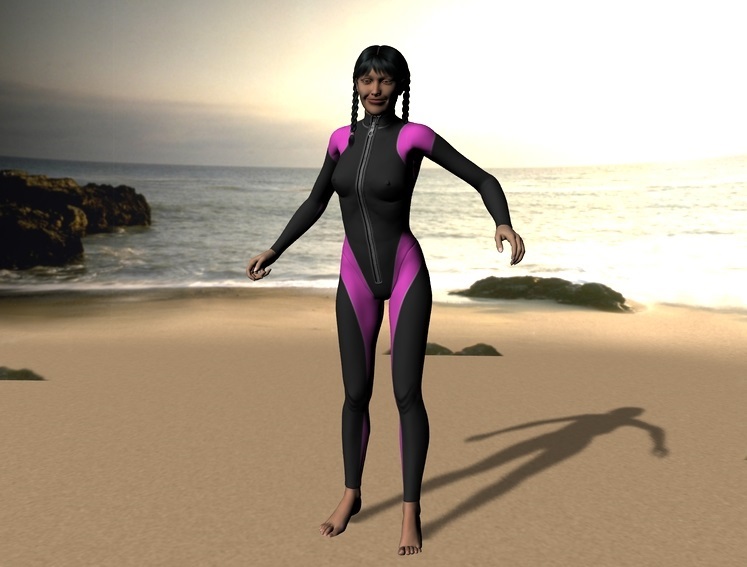 From the keyboard of Richard "Riwa" Shepard comes a pair of older Emma stories.
Dock girl in danger – Emma is working at the marina in her wetsuit and twin scuba tanks when her ill-advised naughtiness of the previous evening comes back to bite her. She learns that scuba tanks eventually run dry, leading to some serious repercussions, especially if you've angered the wrong individual. Originally uploaded under a different name. (16 pages)
Hide and Seek – Emma works for a temp agency when she is sent over to partake in a special assignment to the Country Club Estates and one Miss Violet Breathlace. The game is simple, and I'll use Miss Breathlace's words… "You try to hide and I'll try to find you… every time you lose I get to take your breath away along with an article of clothing… sound like fun?" (29 pages)
Patreon and Riwas Reads updates

,