Coming June rewards
More of the Jaime Club saga.
More of the Island of death row inmates.
Sadie goes a little too far using a noose to get off.
Georgia loses her iPhone off the dock and tries to retrieve it with disastrous results.
Xana likes the water and discusses what turns her on and what might happen to her one day.
Dorothy meets Cupid on Valentine's Day (with a real bow and arrow) (illustrated).
There's a visit to Dolcett University to witness a couple of drownings in the pool (illustrated).
Two rival porn stars hold a contest in the guillotines on the Entertainment stage at the Club.
Elizabeth goes on a boat ride and gets more than she bargained for.
2 short stories about consensual executions on Santamos Island (illustrated).
April stories/rewards will fall off at the end of May to make room for June rewards.
The move is complete. It's amazing looking back and remembering all the stress of packing and getting ready to make the trip. But I guess it's like that with any major event (yes, I'm looking at you, Mr. Surgery). You are looking ahead to what must be… and then you're on the other side looking back. Mom sure is happy I'm so close now. And I'm mostly settled in. I still have medical bills I'm paying off, and I had to make a couple of purchases for the apartment. But it looks like living expenses will be much better here. And this place is a lot nicer than my last one.
I was able to get some writing done this month. There will be some fun rewards/stories coming your way. I hope you enjoy them. Thank you so much for being my patrons.
7548 words – $4.00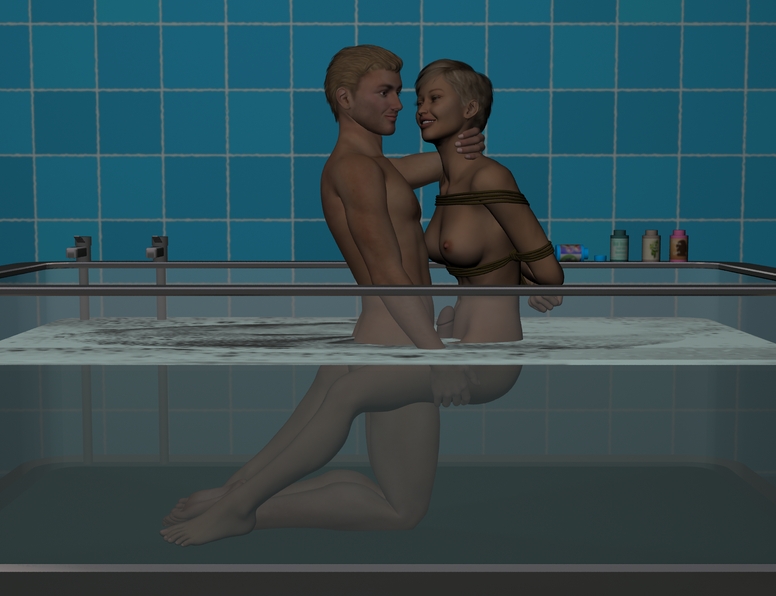 From the keyboard of Richard "Riwa" Shepard comes a JustPaul illustrated short combined with a "dry" story.
Tied in the Tub – a JustPaul illustrated short story about having fun with his naked lover all tied up in his glass tub; that is, until another of his lovers shows up and makes a rather ominous suggestion. (7 pages; 11 renders)
New Year's Eve Sexual Ball II – Things get interesting as his companion leads him around to the different rooms. There is sex and breath-play with some electricity involved. But his inhibitions continue to drop when he sees his girlfriend in different rooms at different times, engaging in sex with complete strangers. (11 pages)
15911 words – $5.50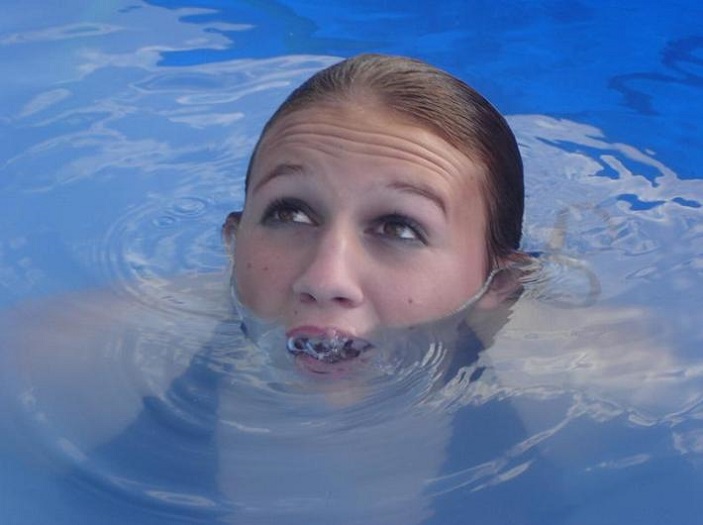 From the keyboard of Richard "Riwa" Shepard comes a trio of older stories about synchro swimmer Cindy and her friend Lisa.
Lisa's Breath-hold – Cindy "helps" Lisa by holding her down for her long breath hold while coach times her. (6 pages)
Cindy's Naughty Breath-holds – Cindy gets Lisa's boyfriend Tony to help her with her breath-holds by holding her breath while sucking his cock underwater for as long as she can. (10 pages)
Lisa's Revenge – A sequel to Cindy's Naughty Breath-holds whereby Lisa gets Cindy back for blowing her boyfriend Tony by making her hold her breath for ages. (14 pages)
18540 words – $6.00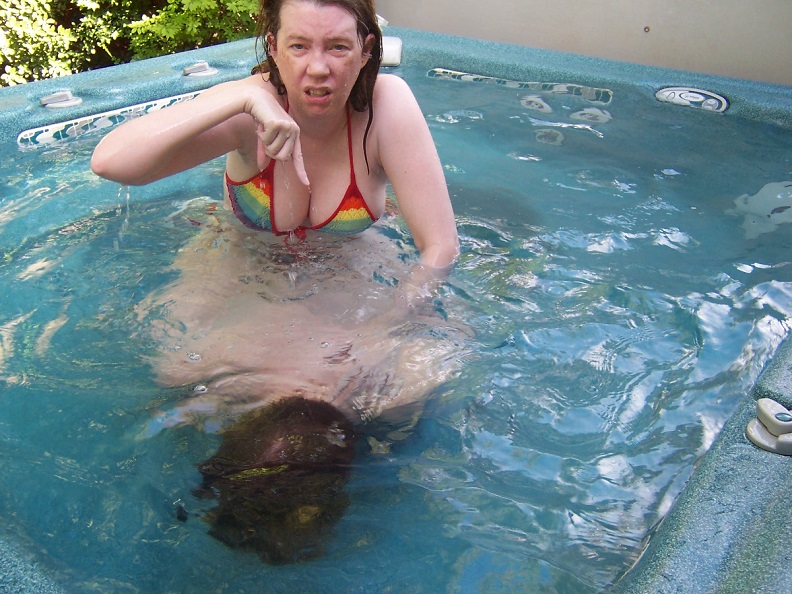 From the keyboard of Richard "Riwa" Shepard comes a quartet of stories celebrating the deviousness of the fairer sex, including two "wet" and two "dry" stories. Some illustrating pictures have been added to certain stories.
The poolboy – Charlotte goes out to watch the poolboy as he works on her pool. But she soon gets all hot and bothered, getting this itch she believes he can help her scratch. But how far will she go to get satisfaction? (11 pages)
The sisters – Brad is at a resort in South America when he goes for a walk and encounters who he believes are two sisters splashing each other in a stream. He soon joins them, thinking perhaps their unexpected meeting can turn into something more sexual. But he soon discovers they have devious ideas of their own. (7 pages)
Turnabout is fair play – Ella likes to play gasping (noose) games with her husband Gerard because of the orgasms she receives (while dangling from the noose). But when she overhears her husband discussing plans to dispose of (hang) her for real, she comes up with a plan of her own that may involve giving her husband a dose of his own medicine. (12 pages)
The beheading of a cheating a****** – Dirk is a playboy visiting a resort with his current girlfriend Jenna. But the ladies around him are always catching his eye. Dirk uses a golfing excuse to arrange an afternoon romp with a couple of exotic beauties while his girlfriend lounges by the pool, only to discover "the hunter" has in fact become "the hunted". (13 pages)
11512 words – $5.00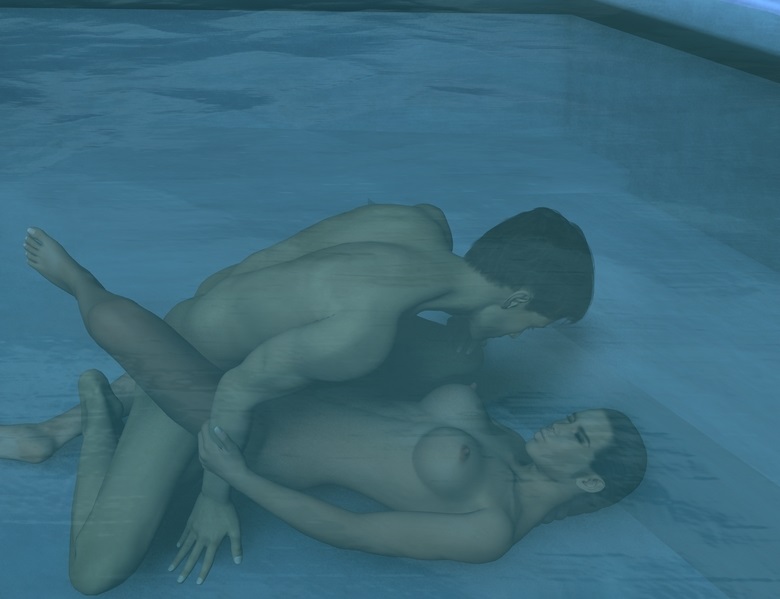 From the keyboard of Richard "Riwa" Shepard comes the continuation of a couple stories about awkward trios, underwater triangles that manifest in rather unusual ways.
Confessions of a Realtor 2: Sean and Molly McTavish – Rosie hasn't sold them a house yet. Are they using her as a realtor or as something else? Should she send them to another realtor? What if they find out their spouse has been seeing Rosie on the side? (11 pages)
The good girl and the bitch 2 – Can Fran successfully seduce Steven in the pool? Will Karen come back down? Or will she call Fran's bluff? (11 pages)
Patreon and Riwas Reads updates

,