Coming May rewards
More of the Jaime Club saga.
More of the Island of death row inmates.
Julie auditions for an underwater part in a movie.
A mother becomes angry her daughter hid an enemy soldier during the Civil War.
A Mata Hari story in first person.
An unpaid ransom brings an unexpected result.
Dorothy and her sister travel abroad for a very kinky, lethal reason.
A couple tries a unique form of marital therapy.
March stories/rewards will fall off at the end of April to make room for May rewards.
Rent is going up in May. So I'm moving back to be closer to mom. It will be a 650 mile move, so it will be a major adjustment. And with taxes this year I will have a lot of extra expenses. That is why I appreciate each and every one of you for being my patrons. Thank you so much.
19582 words – $5.50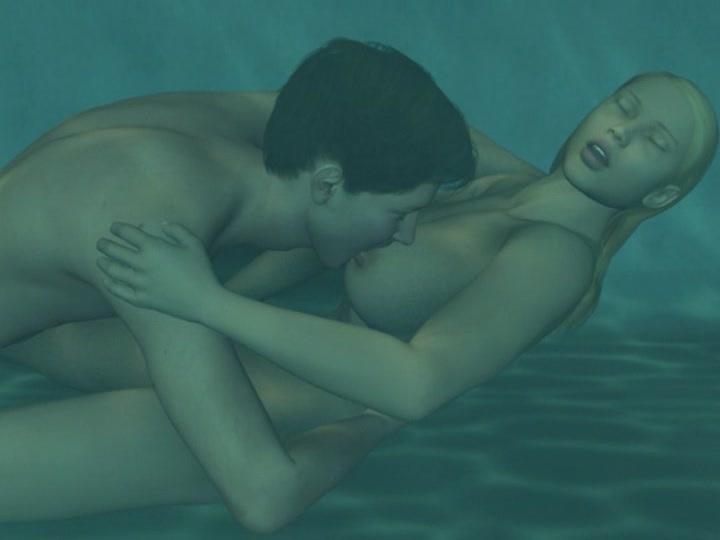 From the keyboard of Richard "Riwa" Shepard comes an "encounter story" originally written ten years ago, the type of story we sometimes like to fantasize about.
He's still moping around after the loss of a girlfriend. So his friend invites him to a party. It turns into an orgy, complete with stripper.
It isn't long before he discovers this party is not his type of scene. So he decides to go check out the pool before heading home for the night. A woman comes out to join him who he instantly recognizes as the stripper. She seems more "woman next door" than the persona she portrayed dancing naked around the pole.
It's a hot, muggy night and she's tempted to go for a swim. She'd like him to join her since she doesn't want to swim alone in someone else's pool. Then she loses her earrings in the water. He's talked into stripping down to his underwear to help search the pool floor where things soon take an erotic turn. (5 chapters; 35 pages)
16623 words – $5.50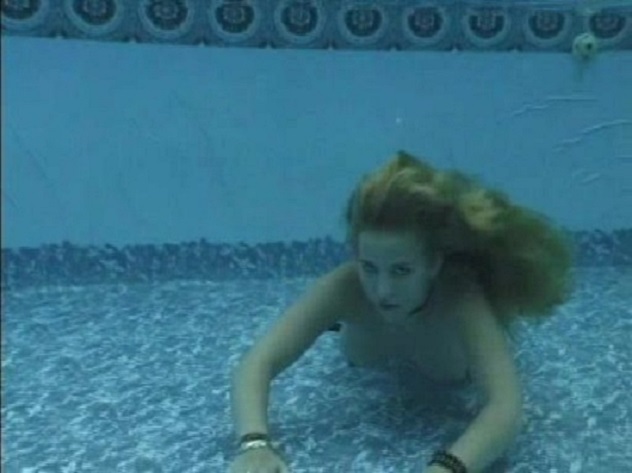 From the keyboard of Richard "Riwa" Shepard comes another older edited Shelly installment. Included is an older, recently edited Emma story.
Shelly 20 – Shelly and I agree to enjoy a swim in the pool one last night before she moves. But what will her reaction be when she learns of the action I plan on taking to definitely make it our "last" swim together? (20 pages)
Change of plans – Emma and Maureen are on their way down to Virginia when they take a little detour. They end up on the beach at an old abandoned pier where Maureen changes into a wetsuit. Then she explains to Emma there's been a change in plans. Emma will get to watch the tide come in as she goes on to Virginia by herself. (15 pages)
10118 words – $5.00
From the keyboard of Richard "Riwa" Shepard comes a couple of older stories recently edited for your reading enjoyment. Included is a guillotine fanfic.
A Cruel Mistress – Kendra signs on with Claudia to be her submissive. But she has a fear of water, and she lets slip that she had a traumatic experience when she was younger, resulting in her not learning how to swim. Claudia uses that information to erotically torment her sub, including a session in the deep pond out back where Kendra must hold her breath until she is bubbled several times. But has she been deceived? Is her Mistress going to leave her on the bottom of the pond? (21 pages)
The beheading of Pamela – Pamela is a well-known celebrity who owes a lot of money to a lot of people, including unpaid taxes. But in this day and age she has the alternative of several years in prison or a public execution in front of a huge crowd to pay off the debt and go out on top. So she chooses a public beheading by guillotine in a large stadium in front of a live audience, convinced this will make her famous for years to come. (6 pages)
10960 words – $6.00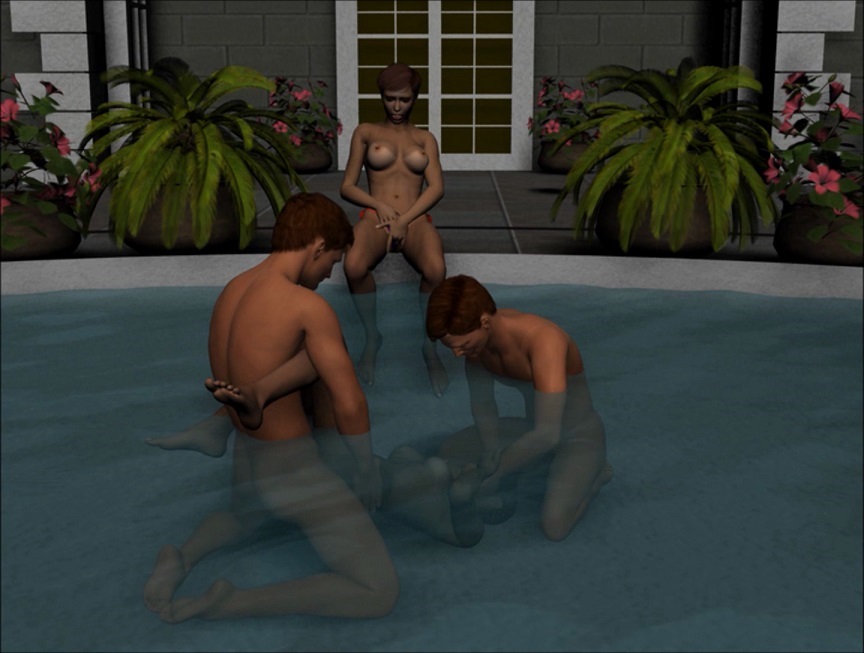 From the keyboard of Richard "Riwa" Shepard comes a JustPaul illustrated story inspired by one of his older clips about twin brothers taking revenge on Veronica's slutty sister.
A promiscuous young woman named Nellie learns about the special habits these identical twins have of making out with their dates underwater. She enjoys pushing buttons and then being made to suck and fuck while holding her breath. Each one takes her out to the irrigation dam where they show off their special skills to her. Then she gets access to the college pool where Wayne cuffs her to the drain to get a blowjob out of her. The next night it is Dwayne's turn to fuck her on the pool floor. But her sister helps set up a special revenge in the cement pond out back while vowing to watch it all unfold. (30 pages; 17 poser illustrations.)
Included is a minute long updated clip of the brothers having their way with Nellie while Veronica watches and gets off.
15337 words – $5.50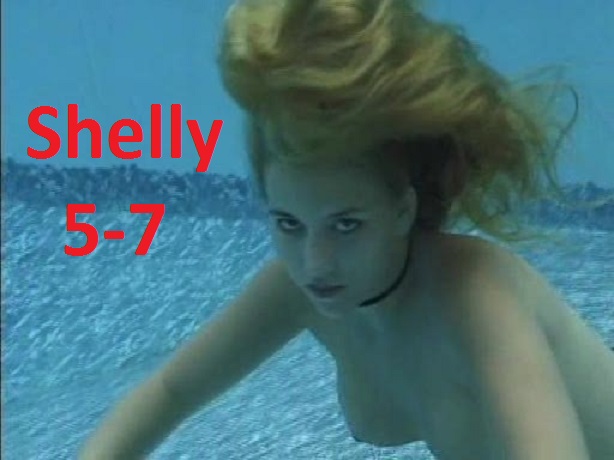 From the keyboard of Richard "Riwa" Shepard comes a continuation of the edited Shelly series plus a bonus beheading story I have re-edited. 8.5 hours of editing plus an additional 2970 words and it is ready for your reading enjoyment.
Shelly 5-7 – (5) I try three times to bubble Shelly before she gets angry and decides to do it herself. (6) That night the guys at work follow me to the pool where they razz me as I display my Speedos to Shelly. (7) After the pool closes and we are alone I start to bubble Shelly as per her request, only to discover the night is becoming frighteningly similar to the dream I had earlier. When things settle down I discover she's multi-orgasmic. (26 pages)
Amy's birthday (beheading) – It is Amy's 28th birthday and she is scheduled to face her Master (by being beheaded). She is willing (to go to the guillotine), only to awaken and face the same day over and over again! (5 pages)
23785 words – $6.00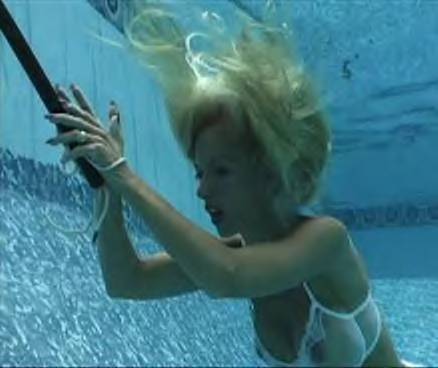 From the keyboard of Richard "Riwa" Shepard comes the next chapter in the Top Billing investigation by the Silver Cross Detective Agency. Included are four more edited chapters to the series My Visit to the Club.
Top Billing Files 4 – Stephanie rescues Keri from the catfight in Angel's backyard pool. But the next day produces yet another victim as the Top Billing model is found in her pool. Stephanie and Lieutenant Powell go after the two lead suspects, only to encounter another twist in the case. (13 pages)
My visit to the Club (5-8) – Rick and Alison witness another event (hanging) on stage at the Club. Afterwards she tells him of her quest to find her mother and sisters, sharing her humiliating encounter with another couple in a sex room. (29 pages)
11140 words – $5.00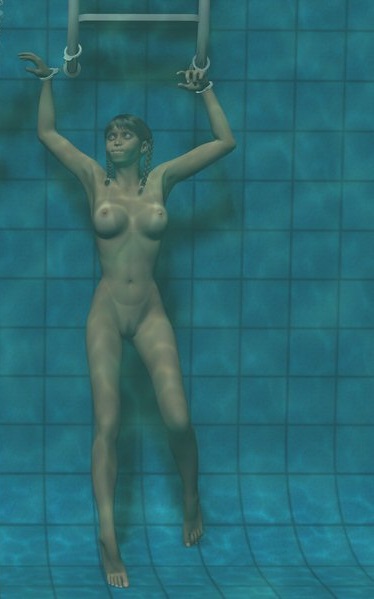 From the keyboard of Richard "Riwa" Shepard comes a tale originally starting out as a script for an MMPTV.net production. The result of said production was so enjoyable that I took vidcaps with MMPTV's permission and embellished the script, turning it into an illustrated story for your reading enjoyment. Included is a Club story I'm tossing in that I wrote a couple years ago.
Escape Artist: Nightmare 2 – Tara and Beth are two former lovers committed to putting on an escape artist show with not one but two models trying to escape together. A relationship fight at the beginning threatens to undermine all they've been working toward. And while one struggles to hold her breath, the other struggles to escape the situations they put themselves into during their practice session. Will their fight sabotage their efforts? Or will this all turn out to be nothing more than a horrible nightmare? (17 pages with vidcaps)
Club (Guillotine) volunteer – Amy works as an attendant at the Club. When she sees a notice for a (guillotine) volunteer she gives it some thought. Besides, she is already taking huge risks by the possibility of having her pregnancy sensor pop after having sex which would make her be taken up onstage (to be executed) in front of an adoring crowd. She agrees for the financial gain afforded to her mother. But it seems an attendant with a bad attitude will be (seeing the guillotine) up on the Entertainment stage ahead of her. (10 pages)
2575 words – $3.00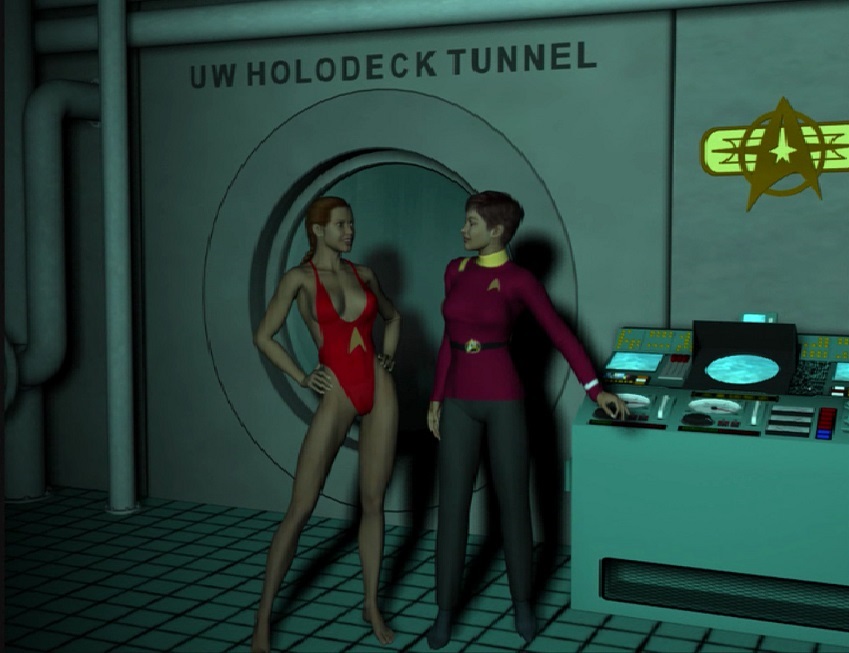 From the keyboard of Richard "Riwa" Shepard comes an illustrated story inspired by one of JustPaul's earlier animations. Commander Barnes has many skeletons in her closet, including her domination of an Ensign who programs her fantasies on the underwater holodeck. She wants Ensign Oguri to tweak her program to give her more of a challenge. But she has no idea the Ensign has rigged the underwater holodeck to give the Commander a program that will do far more than challenge her breath-holding abilities. (12 pages plus illustrations)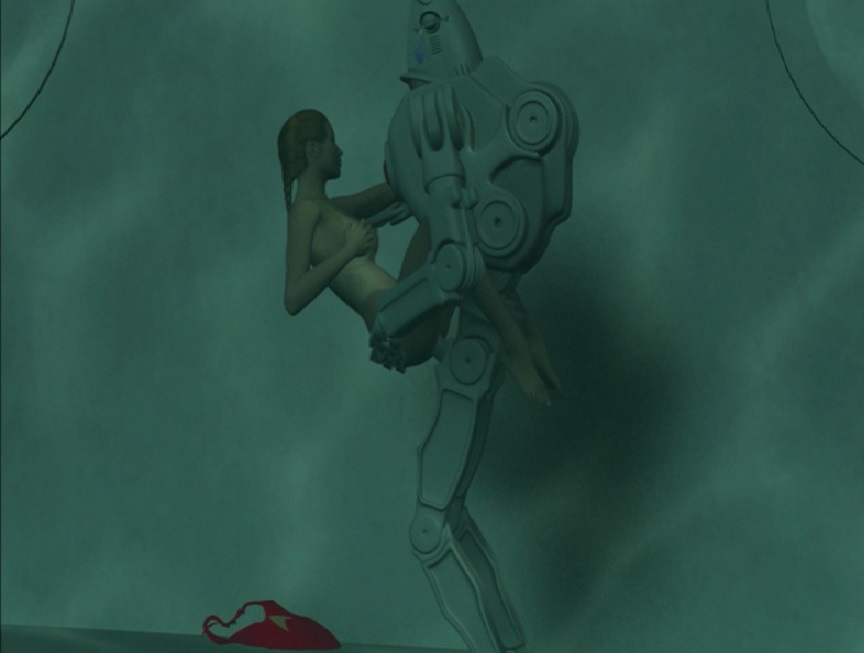 7003 words – $4.00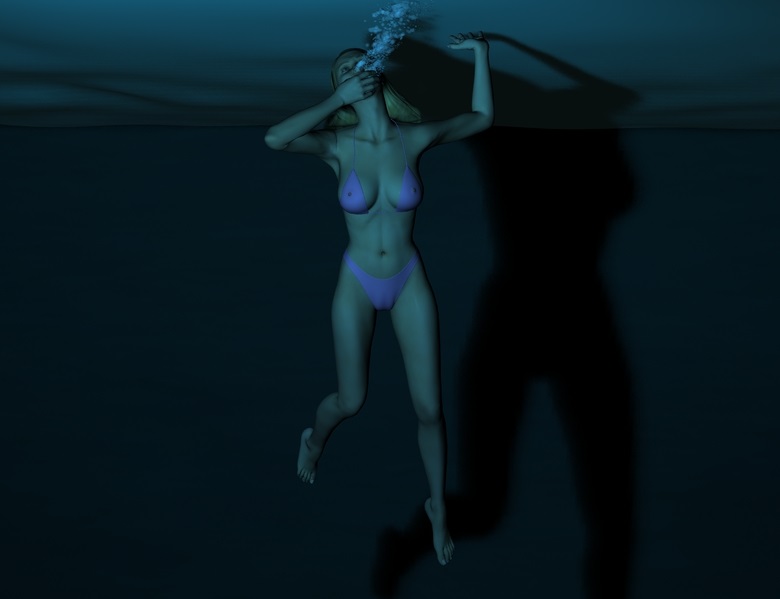 From the keyboard of Richard "Riwa" Shepard comes a couple of brand new JQpublic stories.
The Collector – Kate is staying at an Air B&B. She is on the phone with her friend Joanna telling her about the creepy guy who owns the house and how her sunglasses have turned up missing. That's when she discovers a chest at the bottom of the backyard pool. The problem is: the cover is broken and is stretched across much of the surface. She tells her friend she is going to investigate, only to end up discovering far more than she could ever have bargained for. Kate may end up wishing she would have stayed at a motel chain. (6 pages)
Making it up to him – Taylor has wrecked her husband's car and is deep in his doghouse. So she decides to try making it up to him in their backyard pool with a little playful bondage by handcuffing herself to the pool ladder. It means he's going to have to come down and find the key she hid somewhere under her suit. That should be fun, right? What could possibly go wrong? (7 pages)
Patreon and Riwas Reads updates

,