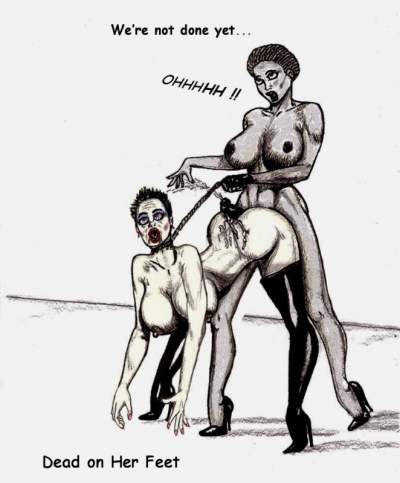 It was New Year's Eve, and Terrie was alone. Her plans for a date had not panned out. So she was out slumming it in one of the Tampa bars.
She was interested in a little shemale action, although a lesbian encounter would suffice. She wanted to end the year by strangling the first unlucky bitch she could pick up and take to a motel. She wanted to fuck death orgasms out of the corpse to ring in the New Year. But so far she wasn't having any luck.
If all else failed she hoped to run into a couple of acquaintances she knew as a last ditch effort. These were women who were well known for their promiscuity. In fact she'd learned about their reputations from a couple of regulars at the bar.
She'd had drinks with them once before. But they'd had other plans and had asked for a raincheck. Perhaps tonight was the night to cash that check in, if only they would show up.
She asked the female bartender, a woman she was attracted to, if she'd seen the women she was thinking about. Yes, they'd both been in earlier. But they'd left with a couple of others she strongly suspected were "packing a little extra male anatomy, if you know what I mean".
Terrie sighed with disappointment. Damn! They'd probably gotten the kind of night she was hoping for. And here she'd even tried the butch cut for her hair and everything, just to attract some attention!
It was almost 11pm, and Terrie was still alone. She'd just decided to call it a night when she turned and bumped into a woman. Immediately she apologized.
"No need to apologize, honey. I saw you sitting here by yourself and wanted to come over and introduce myself. Are you leaving?" The newcomer looked exotic with her dark skin, large boobs and short hair.
"Well, I was thinking of going home since there doesn't seem to be much going on around here."
"Are you looking for a little action?"
"Why? Are you offering some?" Terrie looked her up and down, licking her lips at the idea of asphyxiating this sexy looking bitch.
"I think I can offer you a night you won't forget… that is, if you're interested."
Terrie would have played hard to get. But she was horny, it was getting late, and she was willing to take anything she could get. A night with this exotic creature might be just the ticket. So she paid her bar tab before telling her to lead the way.
–
Terrie got excited when they went to the woman's home. This would make it easy to asphyxiate her now without having to move the body! Terrie found herself getting wet with excitement.
Once they got inside the door, they started making out. Terrie pressed up against her, only to discover she was packing. It was an added bonus.
She gasped with delight as she reached down and rubbed the growing bulge. "You're not upset?" the exotic woman asked with a questioning look.
"Oh not at all," Terrie purred. "It's the best of both worlds – tits and cock! And you have both – a nice 'clitty' and a great set of knockers."
"Yours are great too, hun," the woman said as she pushed her face between them. Terrie was half tempted to smother her with her boobs right then and there.
"Love your thigh-high heels, hun," the woman told her. "They make you look sexy." And with that they slowly started undressing each other until all that remained was their footwear.
Terrie got onto her knees and slobbered all over the sexy woman's hardened "clitty" It was nice and erect, a healthy length and a delicious diameter. She was going to enjoy sucking death cums out of it all night long.
Terrie was finally ready for some cock up her twat. She asked, "Shall we head back to the bedroom?"
"Of course, honey. Now it's my turn for some fun."
"Your turn?"
"You'll find out."
They walked down a hall to a back bedroom. Before they got there Terrie thought she heard something. She paused as she turned toward her host.
"Wait; do you have company?"
"Just a couple friends of mine. You don't mind, do you?"
"Oh no; of course not. I was just… I was just expecting it would be you and I is all."
"Well, we're having a little New Year's Eve party. I hope you don't mind I like to share. Besides, if you like what I'm packing then you're going to love what they've got."
"Oh really?"
Terrie tried not to sound too disappointed. It wasn't how she'd hoped the night would turn out. But having sex with a trio of shemales was bound to give her some juicy orgasms.
When they walked in the door she saw she'd entered an orgy. Inside were two more equally exotic, dark-skinned women with large breasts. They were naked… and they were definitely packing.
What surprised her was seeing those two acquaintances she knew from the bar lying naked on the large bed. What an incredible coincidence! Here they were, together at this house on New Year's Eve and… wait a minute!
They were both lying flat on their backs, their heads hanging off the end. The one she knew as Shawna was being fucked in her cunt by an equally exotic, brown-haired beauty. Her body rocked from the thrusts as her boobs wobbled like crazy. But her face was a very dark shade of red… almost purple.
Her eyes were open, but they looked sort of glazed over. She wasn't reacting in the slightest. And there was a strange red line cutting around her neck, looking puffy and swollen.
Deanne was lying right next to her, her mouth getting fucked deep and hard. Her playmate was groping and molesting her boobs. She had the same red line around her throat, the same disturbing color on her face.
"What the hell? Terrie gasped in alarm. A moment later she felt a rope come down around her neck. It was pulled tight as a cock thrust hard into her cunt.
She started gasping and gurgling as the one fucking the lifeless woman she knew as Shawna looked in their direction. "Did you pick out a good one, Colette?"
"Found her at that same bar, Yarina. She's got nice tits and is more than willing. How's that one coming along?"
"Great! I just fucked another death cum right out of her!"
"Damn; you got a good one then! Let's hope I picked out a winner here. What about you, Sherie?"
"I'm going to fill her mouth with cum before I fuck her dead ass, Colette."
"Good for you." Then she leaned closer to Terrie's ear as she fucked her harder.
"Yarina got to fuck that bitch while strangling her to death. Sherie got the other one. They were too cummed up to put up any kind of resistance. Now you're going to cum for me while I strangle you to death, right?"
Terrie tried to rise up to resist. Colette roughly pushed her back down until she was almost touching the floor with her hands. "Oh no, honey! You look right into that full length mirror right in front of you and enjoy the show. I know I'm going to."
Terrie looked ahead to see a full length mirror had indeed been set up. She hadn't paid any attention to it because she'd been distracted by the others' fucking the two dead bodies on the bed. Now she could see her reflection, the image of a big-boobed butch all dizzy and breathless, the rope tightening and threatening to cut off her air.
"We're going to have fun ringing in the New Year with your three dead corpses, honey. Oh, we had fun with them first. Then I left them to enjoy themselves while I went to the bar to pick you up. Now that you're here we're going to have a lot of necro sex fun after midnight, don't you think?"
Terrie rasped and gurgled as she tried to pry the rope off from around her throat. Colette kept swatting her hands away. "Oh no, honey. You're going to give me a good climax before I enjoy your corpse, right? Just look at yourself in the mirror and watch yourself go. I promise the three of us will take good care of you after you're gone. We always share our play-toys with each other, especially when it comes to pulling death-cums out of a sexy corpse. So don't you worry. You'll get to experience their cocks again and again long after you're gone."
Terrie couldn't help squeezing involuntarily with her cunt as she struggled to breathe. "You feel great clenching around my "clitty" baby. I'll bet you've done this before haven't you… been asphyxiated during sex? Damn! I think I got the best one of the three!"
Terrie looked over to see Shawna's body twitch a little. Was the woman having an orgasm after she was dead?? And did Deanne just twitch her mouth a little as though she was sucking on that cock even though she was gone??
Terrie rasped and gurgled as she tried to breathe. She tried to rise up, only for Colette to push her back down. "Damn, honey! I've got to cum already!" And with that Terrie passed out as she was filled with her cream.
When she regained consciousness her situation hadn't changed any. Colette was now fucking Shawna's dead mouth as Sherie fucked Deanne's cunt. Looking in the mirror revealed her reddened face along with the image of Yarina thrusting behind her as she was fucked again, the rope pulling tight.
"Damn, Colette; you're right! She really clenches when she's being strangled! Just look at her face in the mirror."
"Nice and red, isn't it? I swear she's done this before."
"Hell, do I get a turn?"
"You might as well, Sherie! She might last long enough for all three of us to fuck her before midnight!"
Terrie tried to rise up again. But she was deeply strangled. She looked in the mirror and saw a profoundly asphyxiated woman with a butch haircut looking back at her while an exotic, dark-skinned shemale beauty gave her the fucking of her life.
She numbly glanced over at the bed. Shawna was still dead, although her mouth was "eagerly" taking that she-cock. Next to her Deanne was being ruthlessly pounded, her boobs really shaking.
Terrie clenched instinctively around the cock thrusting inside her. Her brains were scrambled from the asphyxia. That's when she saw the woman in the mirror reach underneath to reach for her nub.
"Damn, Colette! This bitch is fingering herself!" And with that Terrie orgasmed before passed out again.
When she awakened she saw Yarina fucking Shawna on the bed while her friend Colette was pounding Deanne. Both shemale beauties were thrusting in unison, trying to see who could get their corpse to have a death orgasm first. Both faces of the dead women were shaded almost to a purple or blue-grey.
She looked in the full length mirror and identified who was now fucking her. What was her name again? Was it Sherie? She was having a hard time thinking clearly.
She felt it swell within her. She was so breathless she could hardly think straight. But her hand reflexively reached back to finger her button.
"Damn, Colette! She's doing it again!"
"Come inside her as she passes out!" And with that Terrie orgasmed herself into unconsciousness as she felt another helping of cream fill her cunt.
Terrie couldn't tell if she was dreaming or not. She stared into a mirror at a woman who seemed to be deeply asphyxiated. Some exotic beauty was fucking her hard from behind. She thought she vaguely recognized her from the bar.
At that moment fireworks went off somewhere outside in the neighborhood. "That's your cue, honey," the shemale told her, pulling hard on the rope. "It's midnight so it's time for you to die. So look in the mirror and watch yourself fade away, ok?" Now Terrie couldn't breathe at all.
She was too weak to reach back to finger her button. She just stood there balanced on her heels, her hands almost to the floor. She didn't know who or where she was, only that she was cumming again… orgasming her way into oblivion.
"Damn, I think she's dead on her feet!" Colette gasped. Then she pulled her cock out and sprayed all over Terrie's backside. There were stray twitches and muscle spasms. But there certainly didn't seem to be any life left.
"Ok, girls!" Colette declared! "We're going to necro fuck the New Year in right!" And with that they all changed corpses, knelt them over the end of the bed and then fucked their asses side by side to fully usher in the New Year.
2017 (Written for Terrie Dec 27 '17 by riwa)
GD Star Rating
loading...
GD Star Rating
loading...
New Year's Eve Terrie

,