Coming December rewards
Who survived the snuff room? What's next for John and Jaime at the Club?
What's next for the inmates on the Island of death-row inmates?
Miss Woodcock hangs her first student at Dolcett High – the conclusion.
Ella the agent gets dunked.
Dorothy gets executed on Santamos Island. It was a different kind of lottery.
Three actresses who never got work go out in style.
Holly has an underwater Playboy shoot her two model friends are jealous over.
Kajal is strangled by her boyfriend for being unfaithful.
More of the Peace treaty as an added bonus.
And any other stories I might want to post in December.
October stories/rewards will fall off at the end of November to make room for December rewards. Kidney stones appear to be gone, but apparently I picked up a gallstone as a replacement. How stupid was that of me? My gallstone and I thank you for being my patrons. I hope you have a very Merry Christmas and a Happy New Year. And I hope your Thanksgiving was full of good food and created some nice memories.
6684 words – $7.00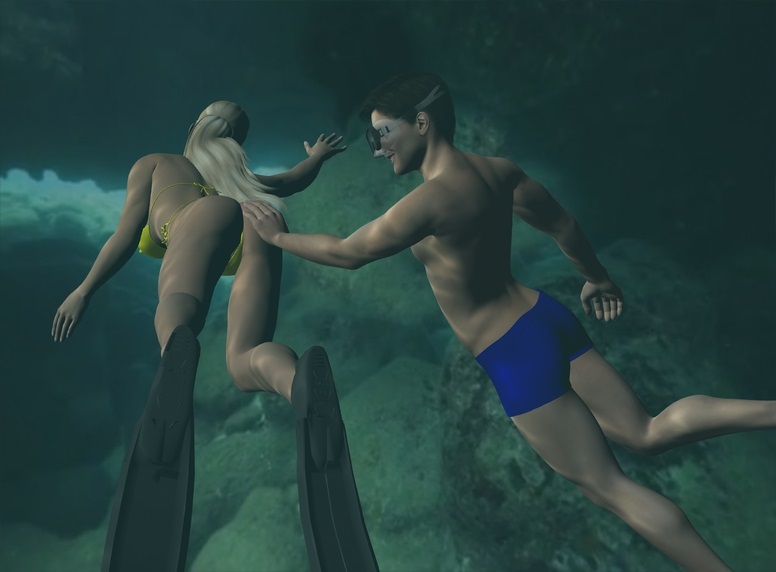 From the keyboard of Richard "Riwa" Shepard comes the conclusion to the erotic weekend between Paul and Brooke.
Sunday afternoon Paul takes Brooke out on the boat to a location called Poseidon's Caverns. After a few tunnel swims he takes her to a more challenging passage known as Poseidon's Revenge, a passage that is rumored to have claimed three lives.
Later that evening Paul and Brooke go for one last swim out in the lagoon. Paul takes a couple of pony bottles along, but Brooke gets a little subordinate and Paul has to "orally set her straight" so to speak. But what will happen with the pony bottles run dry? (21 pages; 16 renders)
(Included is the 4:39 clip Paul sent me that inspired it all. He has allowed me to share it with you so you can watch it to see where I added to his narrative in this 3-chapter saga.)
17191 words – $6.00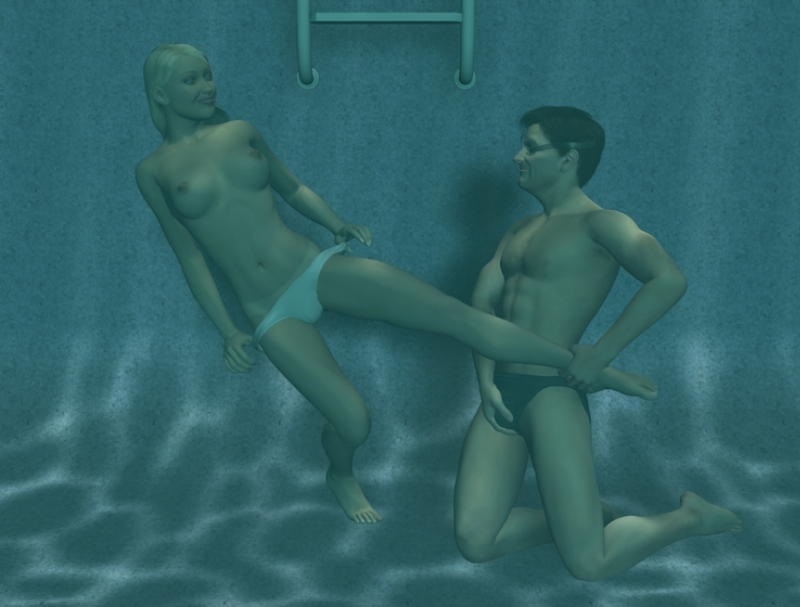 From the keyboard of Richard "Riwa" Shepard comes a second chapter to that story in the style of the Dear Diary series. Included is an older story for your reading enjoyment.
Seducing Uncle Richie 2 – Another swim with Uncle Richie in their pool leads to more embarrassment. So Stephanie arranges for a private swim so she can put his mind at ease, a swim that becomes wildly erotic. Will she convince him to swim with them again? How much farther will he go as they try to seduce him? (17 pages)
 A restless night – Unable to rest, Mariah decides to go for a little swim to get herself off. She has an indoor pool that connects to the one outside. She goes out into the cooler water, only to get herself trapped under the pool cover while her little dog watches (yes, a fanfiction starring THAT singer). (14 pages)
9071 words – $5.00
From the keyboard of Richard "Riwa" Shepard comes a pair of newly written JustPaul illustrated stories, originally inspired by a couple of his renders.
Doing the MILF (part 1) – Shaun moves into a house with a shallow hot tub in the back yard. He has a fuck-buddy named Stella who he invites over to use the hot tub every now and then. He also has a family of four as next door neighbors. But Janice the wife seems attracted to him.
Stella believes this wife is interested in him judging by the way she comes on to him. And so it would seem, as Janice likes to come over and use the hot tub naked while masturbating. One night she comes over while Shaun is sitting naked in the tub… and asks if she can masturbate while he is watching. (20 pics; 24 pages)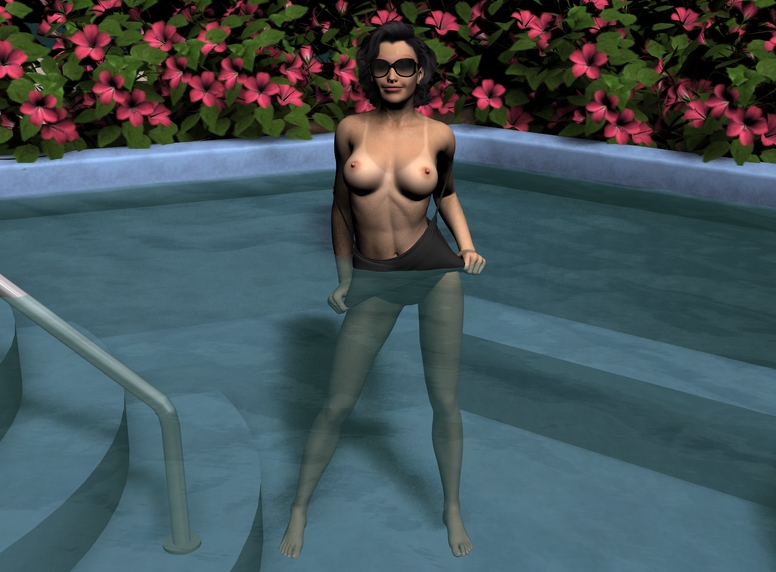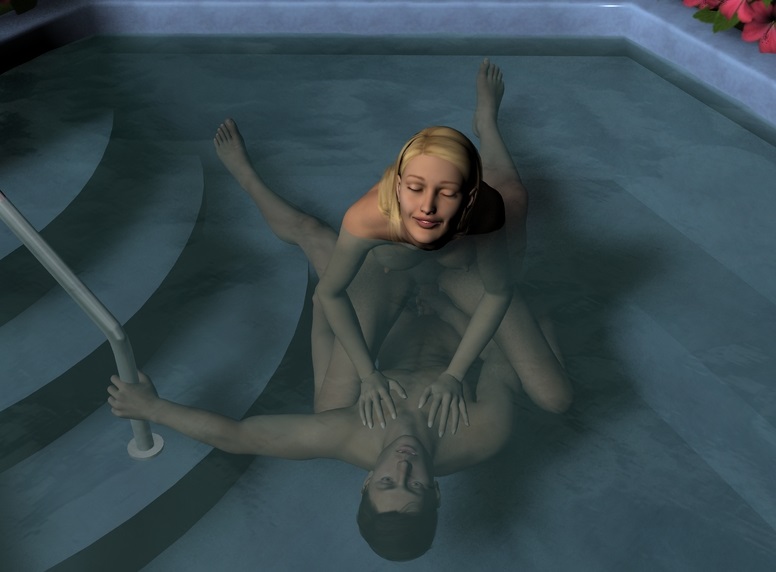 Home Early – Eleanor has a gut feeling her husband may be cheating on her and shares her suspicions with her friends during ladies night out. They suggest she drive back home to see if she can catch him in the act. And surprise – surprise… she does! What happens next does not go well for someone. (6 pics; 9 pages)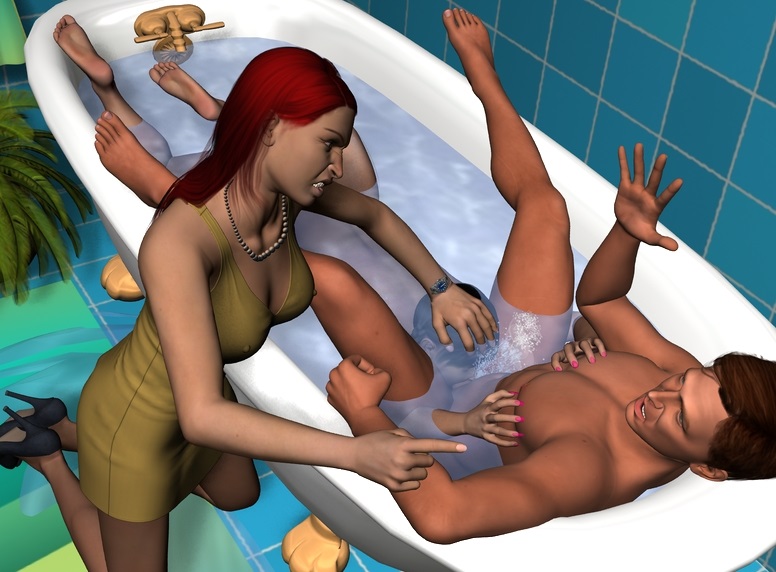 14159 words – $5.00
From the keyboard of Richard "Riwa" Shepard. I was inspired by some of JustPaul's clips and pictures and started another illustrated story. But this one ended up combining vidcaps from several different clips the longer it became. My long-windedness ends up being to your benefit. Included is an older erotic underwater story I just edited with an addition of nearly 800 words.
Synchro Ambition – Camille transfers to a new school where she joins the synchro swim team. She starts to make friends and uses her sexuality to seduce a teammate at the bottom of the pool. But she has ambitions which are fueled when she catches the coach fucking their synchro team captain at the bottom of the dive pool. What will happen when she tries to make the team captain step down in order to further her ambitions? (32 pictures and 35 pages)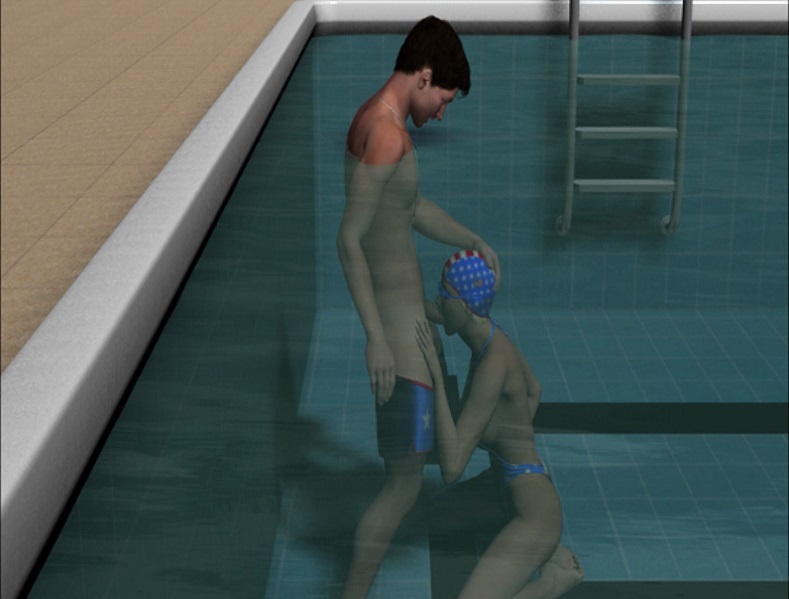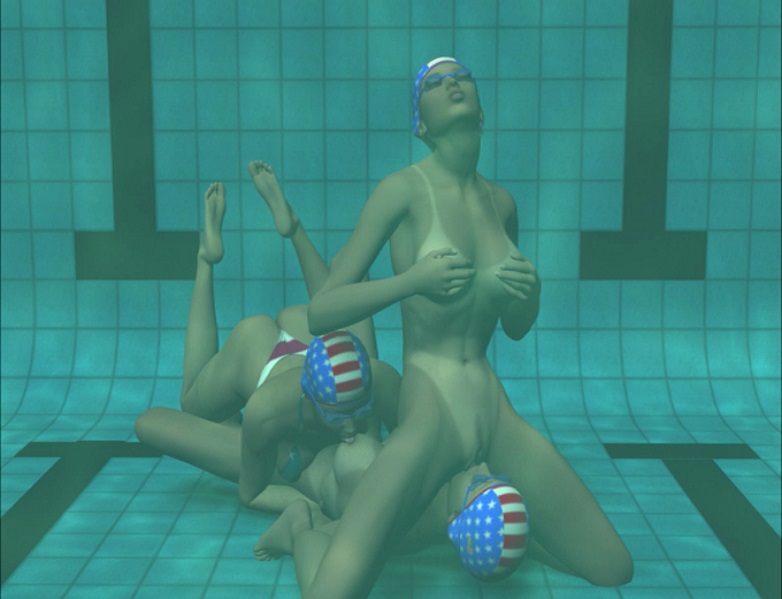 Mika's bubble troubles – Mika has a black hood pulled over her had so she cannot see. Her wrists are tied behind her back and she is tossed into a pool where her lover Marcel plays a little game with her similar to the AF clip Casting Call, resulting in several orgasms. (9 pages)
36725 words – $7.50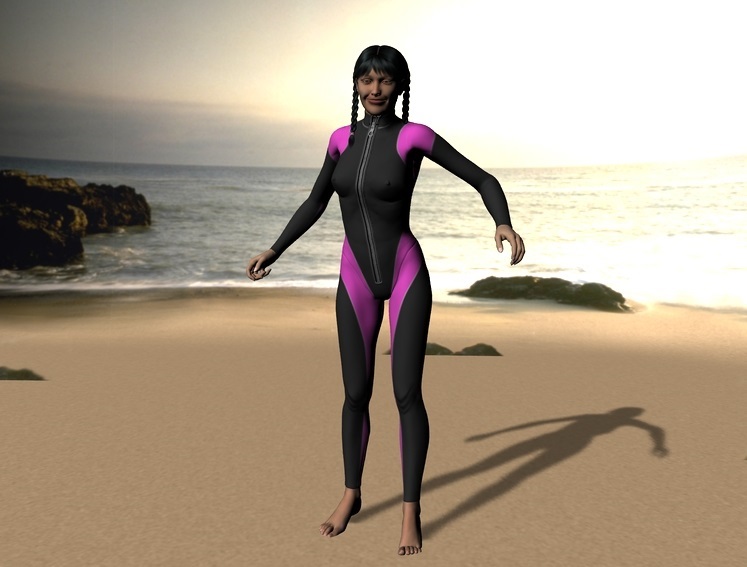 From the keyboard of Richard "Riwa" Shepard comes the entire saga of Emma and the suspicious boat. I've combined all 10 chapters into one special bundle at a reduced price from its previous listing.
1-5 A suspicious boat has been anchoring in the marina, raising concerns they might be engaging in an illegal activity that could put the facility at risk. Since Emma is a curiosity-seeker and is considered to be the resident snoop, she is asked to go investigate. After giving the owner a bj (and after her boss drools over her in her wetsuit) she is off.
She uses the marina's zodiac to locate the suspicious boat in a curious location. Emma dons her twin tanks and goes under to investigate. It isn't long before she is spotted, a situation further complicated when her valve starts acting up. Two female divers with spearguns go after her, resulting in a very narrow escape.
The next day it is back in the river gathering data from the sensors located in cages at the bottom of the river. But she has been followed and is ambushed. She is trapped inside a cage with her air supply dwindling rapidly. (5 chapters in 30 pages)
6-10 Stephanie is suspicious not only about the boat, but about her employee's possible involvement. So Emma is sent back out to get something more substantial to present to the authorities. She waits on Stephanie's boat at the dock until the suspicious boat pulls in. Then she sneaks on board to look around, only to get trapped down in the cabin when the owner returns.
Emma hides in a closet as the boat pulls away. But she is in cramped, stuffy quarters that leads to more erotic stimulation than she wants in her perilous situation. She tries to get off the boat but is captured by the owner.
She is sexually abused by the woman who lost her lover to the speargun in the earlier chapters. Then she is dangled from the winch and is dunked several times. It is finally decided she will be put in her scuba gear and left in the shark cage for her air to run out where her associates will retrieve the body and do with it what they will. Will Emma perish or will she survive? (36 pages)
Patreon and Riwas Reads updates

,