Coming October rewards
Will Maggie get into trouble for her outburst at the dolphin tank in the ongoing Island series?
What will happen to Sylvia at the club with Jaime and her husband? Or will it be Jaime who finds herself in a dangerous situation?
Sada gets strangled and hanged.
Melissa wants to be his bubbly little snuff-puppet
Zuzana volunteers to be the first one to participate when her friend opens a business for erotic asphyxiation.
I plan to upload more of the peace treaty.
And I'll post anything else that inspires me going into Halloween.
August stories/rewards will fall off at the end of September to make room for October rewards. I've passed four kidney stones so far, thankfully with a minimal amount of pain. And I got to drive up to see mom for a couple of days. The trip involved 4 gas fill-ups. So I appreciate all of you being my patrons. I hope you have a great October while I upload fun stories for your reading enjoyment this month.
15703 words – $5.00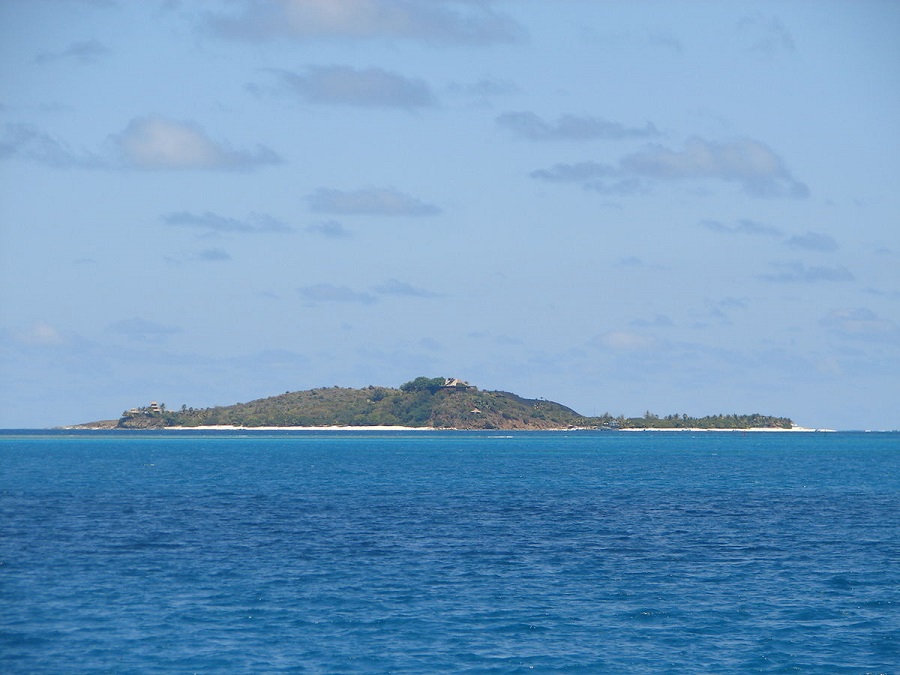 From the keyboard of Richard "Riwa" Shepard comes the continuation of a pair of long, older series recently edited.
Island 3-4 – For causing so much trouble on the bus, Miranda finds herself on the receiving end of a wicked dunking inside the ship's interior pool. Ch 4 finds herself receiving the bubbling punishment she deserves. Mike and Maggie make sure they get some pleasure out of it, including the use of a toy as well as Mike's erect member. (18 pages)
Jaime 3-4 – Jaime's husband John narrates how he visited the club and witnessed the demise of some of the females he saw there, including one who wanted him to watch during her noose-dance. It's a secret he's hiding from his wife, even as his Club visits begin to manifest in their sexual play. (11 pages)
Included is an unadvertised bonus "wet" short of 5 pages, 1221 words, and six picture illustrations.
15060 words – $5.50
From the keyboard of Richard "Riwa" Shepard comes another addition to the MILF story with new JustPaul illustrations. Included are a couple of additional stories – one old, one new – inspired by JustPaul animations. My thanks for his great renders.
Doing the MILF part 3 – Stella is eager to hear more of Shaun's sexual adventures with the MILF next door. So she comes over for a soak to learn more details. He decides to use the handcuffs on her while adding a sexual toy to their fun. Then Janice comes over late Sunday night wanting a soak and something more. Will he use the cuffs and the toy on his neighbor as well? Will he finally give her what she wants? (12 pics; 23 pages)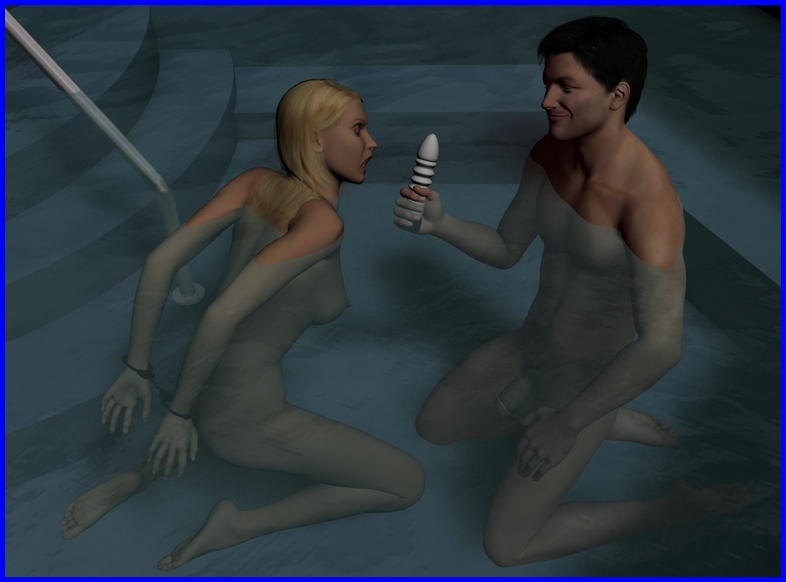 Freediving Academy: Clarissa and Marie – (aka Freediving Academy day two) Clarissa dives a wreck and gets herself into trouble. Marie shows up at an opportune time to help her. Clarissa tells her she would enjoy going back down while allowing Marie to teach her more of what she knows about erotically holding her breath. (17 pics; 14 pages)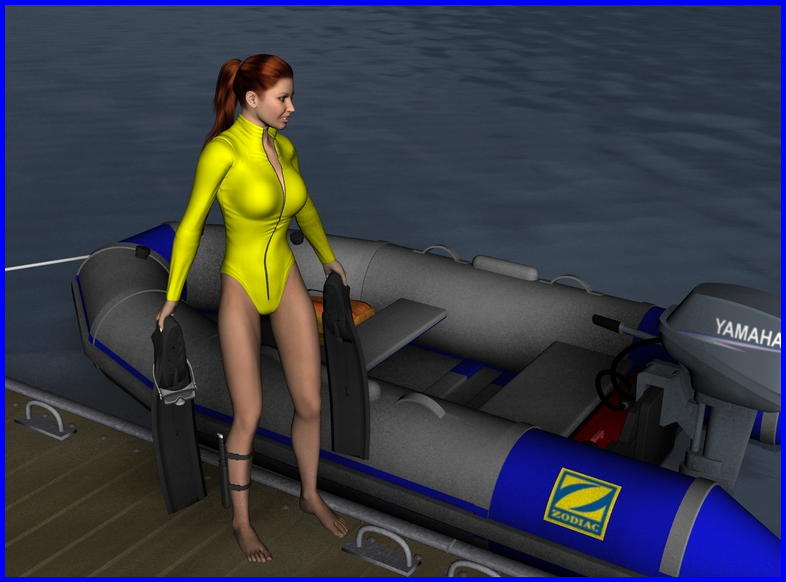 Money – Two ladies are about to come into possession of a lot of money waiting for them in a sunken vessel. But one decides to get rid of the other and keep all the dough for herself. Will she succeed? (9 pics; 12 pages)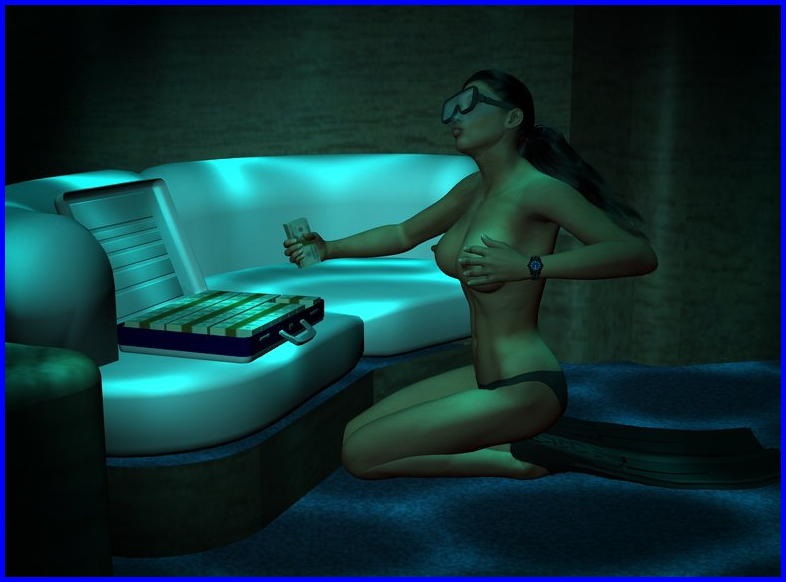 17848 words – $6.00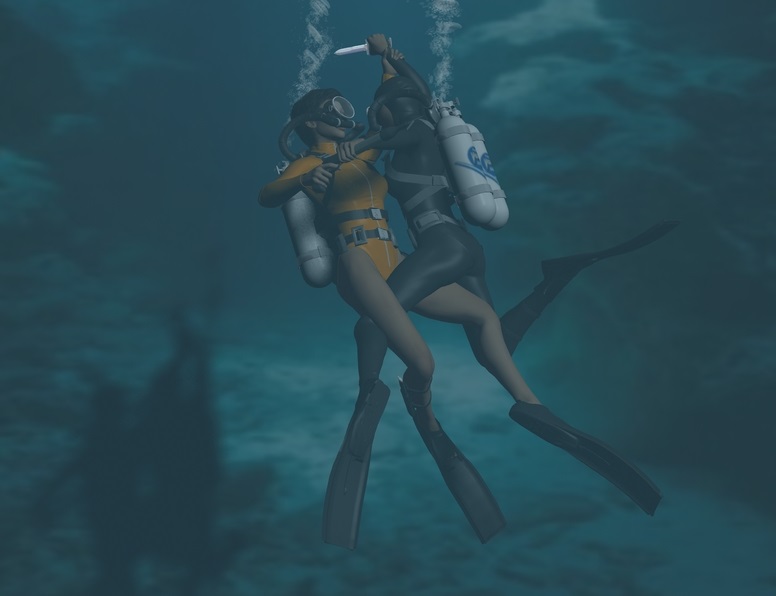 From the keyboard of Richard "Riwa" Shepard comes a new story originally written as a 4 part script. Included is an older story I went through and polished up for your reading enjoyment.
Goodbye Angels – Charlie is about to be investigated by the Feds. This is bad because the type of business he's been running lately is not one you would want to write home to mother about, not when it involves a lot of bubbly assassinations. And in this case he has three female liabilities in particular that will have to be dealt with. (5 chapters at 21 pages of bubbling, including two scenes using scuba gear in the springs.)
Britney's Bubbly Bang – Jim finds an aquaphile in a lounge at the resort and takes her out to the pool after hours. But he doesn't want to leave his friend and roommate out of all the fun. So he goes and gets him so the two of them can enjoy Britney together. After all, she's tied up and waiting for them out in the pool. (12 pages)
18587 words – $5.00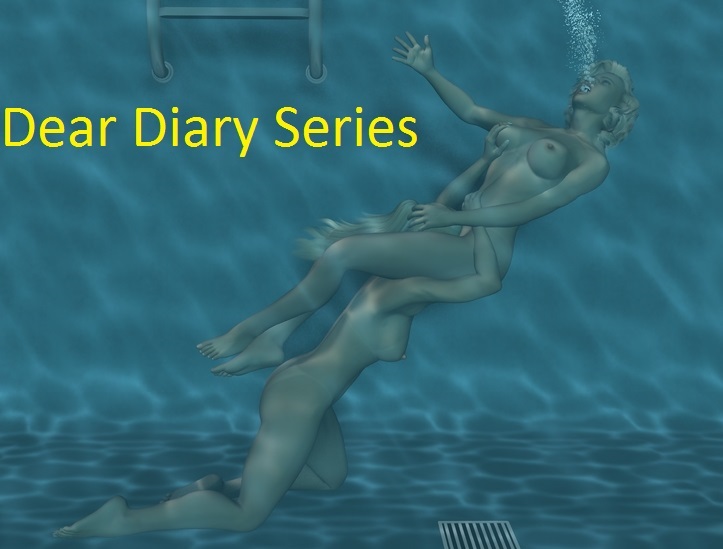 From the keyboard of Richard "Riwa" Shepard comes a brand new chapter to the Dear Diary series. I have also included a recently edited Emma-in-an-underwater-predicament story for your reading enjoyment.
Dear Diary 12 – Kristen and her mom are planning on entertaining Tina and Marie in the backyard pool. But the car breaks down. Kristen catches a ride home with a mechanic to let them know what happened while her mom waits for the vehicle to be fixed.
When she gets home she discovers her dad is in the water enjoying a naked swim. She joins him for some dunking and bubbly fun. Then Tina and Marie show up at the moment Kristen is swallowing her daddy's cum. But Marie is hesitant about getting into the water with Kristen's father.
Kristen gets Tina to join her, and soon they are both naked. After a while, they get out and drag Marie into the pool. Then she lures her father closer until they are all naked in the water where Marie makes an incredible request of her dad involving keeping someone underwater until they bubble. (22 brand new pages)
A perilous situation – Emma finds herself in a pickle when she goes early to the Spa to play an erotic escape act down in the filtration tank. The girlfriend of the guy she's been blowing shows up to interrupt her session, potentially making it much more lethal. (12 pages)
5853 words – $5.00
From the keyboard of Richard "Riwa" Shepard comes a trio of older JustPaul poser illustrated stories recently edited. With this bundle you get a variety of underwater locations and situations including pool, hot tub and bathtub.
Sweet Dreams – While skinny-dipping in the resort pool Brooke has sexual thoughts about the guy who gave her and her friend Vera a ride out to the Keys earlier that day. (8 pages plus poser illustrations)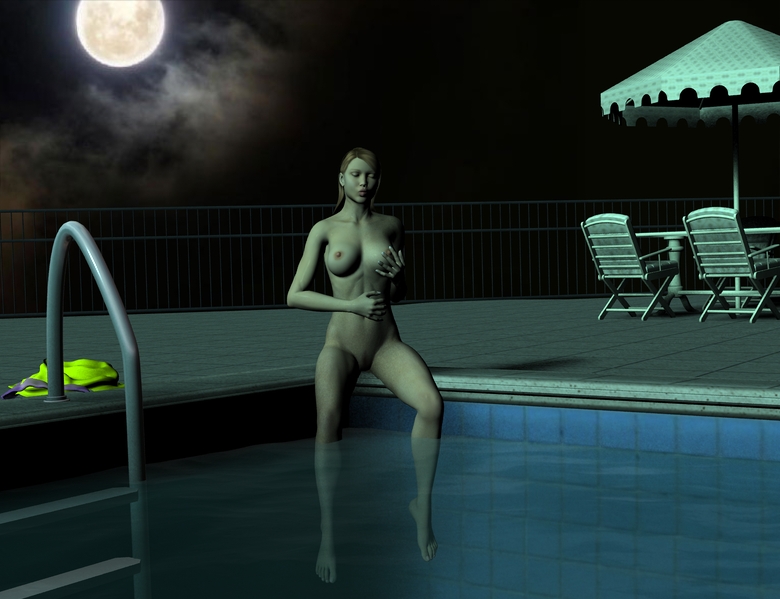 Jolene – Inspired by the Dolly Parton song and JustPaul's renders comes a story of a wife determined to have it out with the woman who is seeing her husband. She catches them both in the hot tub and her anger pushes her over the edge. (8 pages plus poser illustrations)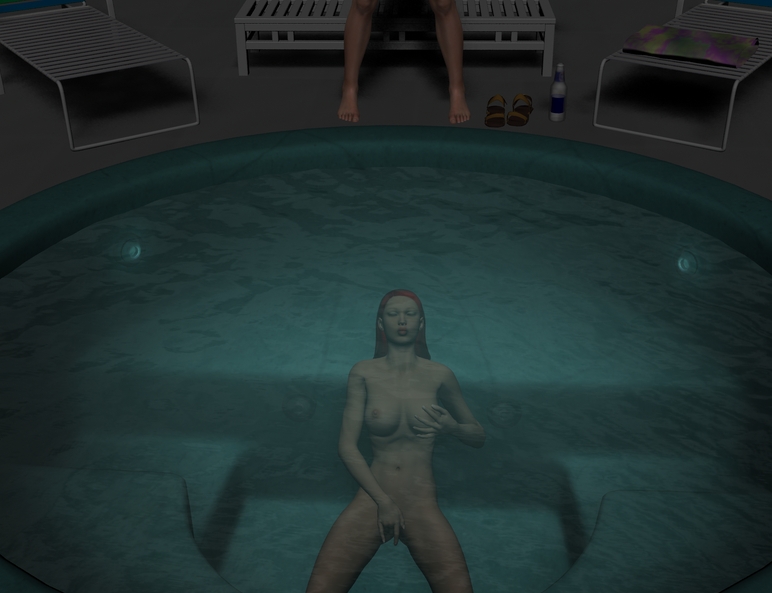 The lure of the tub – Vanessa wants to manipulate her husband into making a purchase for her. The only way she knows how to do it is to use the lure of the bathtub to get her way. Will it work or will it backfire on her? (5 pages plus poser illustrations)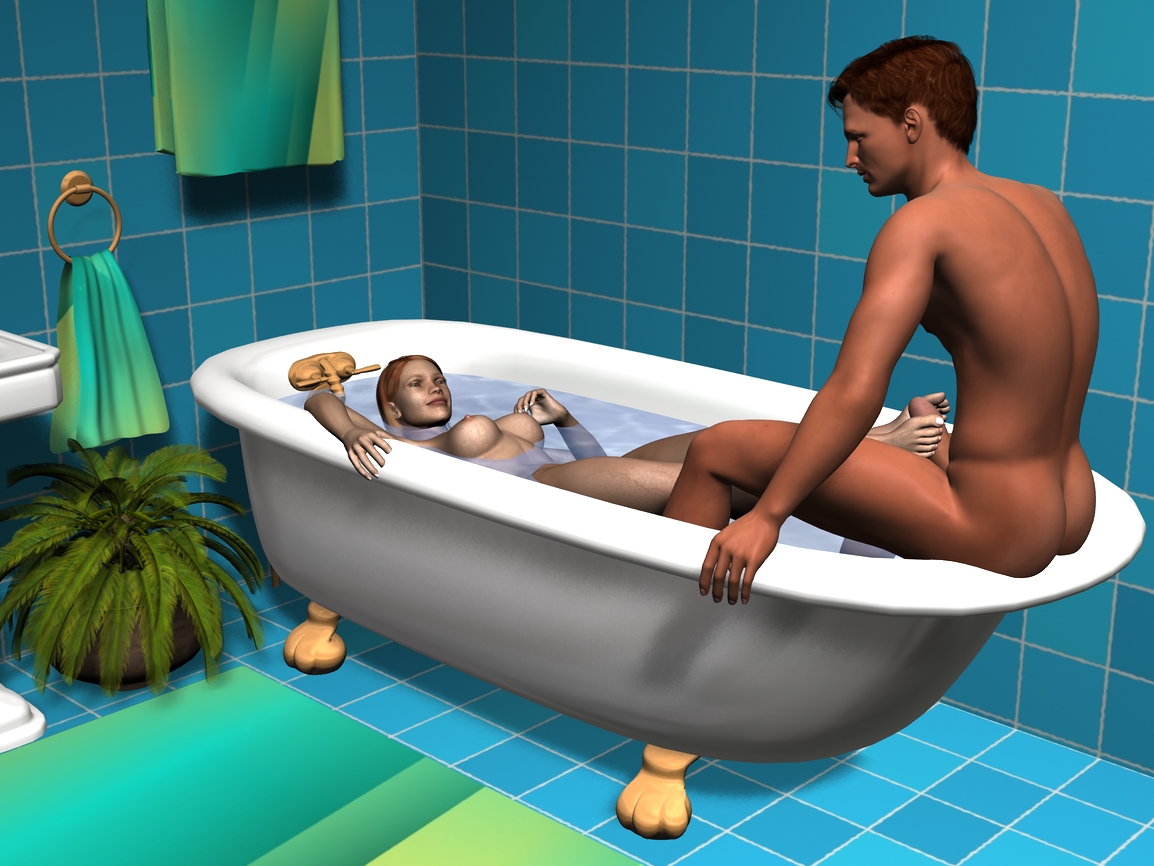 7625 words – $6.00
From the keyboard of Richard "Riwa" Shepard comes the continuation of the erotic weekend between Paul and Brooke. Included is a new short story inspired by some of his older renders.
Our Fantasy Weekend Getaway 2 – Brooke decides she wants to try the stripper pole at the Mermaid Lounge before trying her hand at giving an underwater lap dance. Then she wants to work Paul up into a frenzy by doing a Deep Solo for him, even though she'll draw the attention of others (including a lusty female admirer) before they head back to the bungalow for more fun in the glass tub. (20 pages; 19 renders)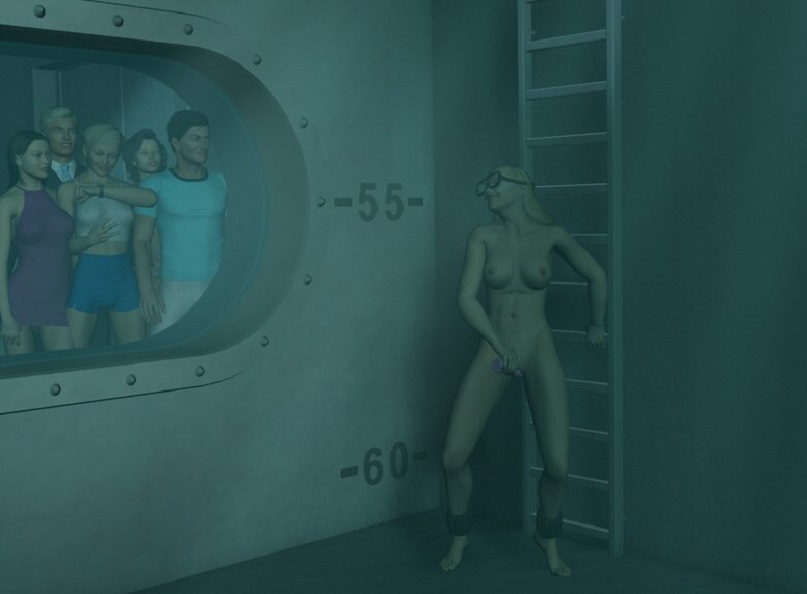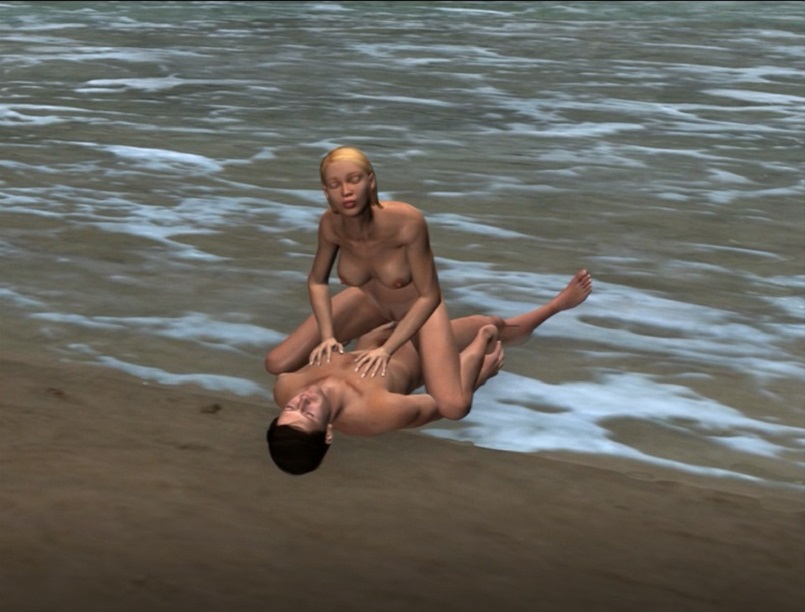 Autumn's wreck dive – Autumn is a mild mannered bank manager who likes to let her hair down by going on freedives in the Bahamas. She's taken classes from the free diving academy, so she knows how to be safe and how to watch her limitations. But what kind of attention will she attract once she's down on the wreck? (10 pages; 9 renders)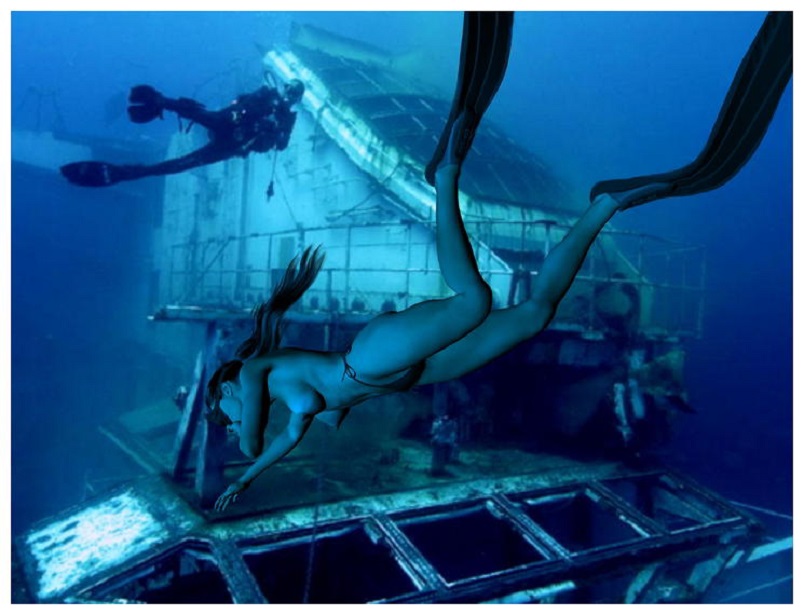 Patreon and Riwas Reads updates

,