He wasn't in the house 10 minutes before they had him upstairs naked in their bed. It didn't take long for his cock to harden as they did a sexy strip tease in front of him, fondling each other's bodies and groping each other's breasts. A moment later it became a competitive battle to see who could get onto the bed and get his hardened dick into her mouth first.
Suzanne won…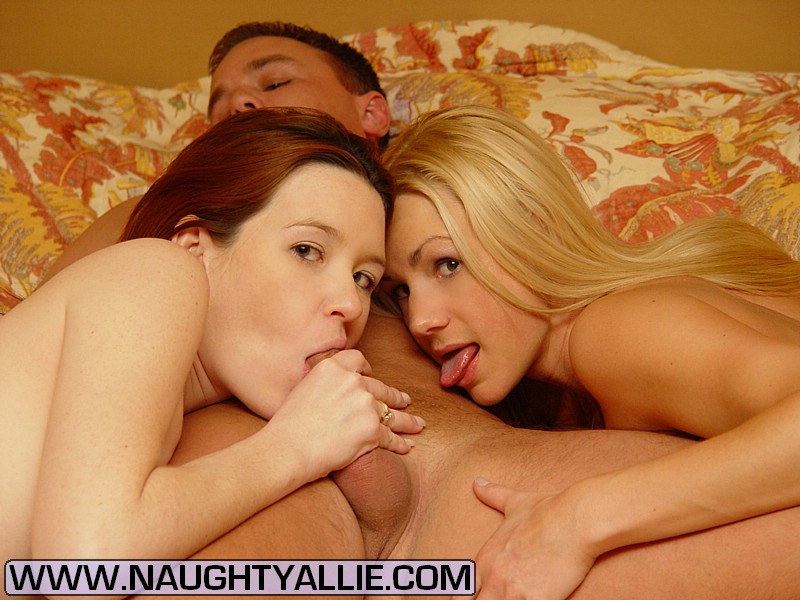 Suzi, however, was a generous soul. She allowed Michelle a healthy helping of man meat. Chelle sucked as though she hadn't had "man sausage" in ages.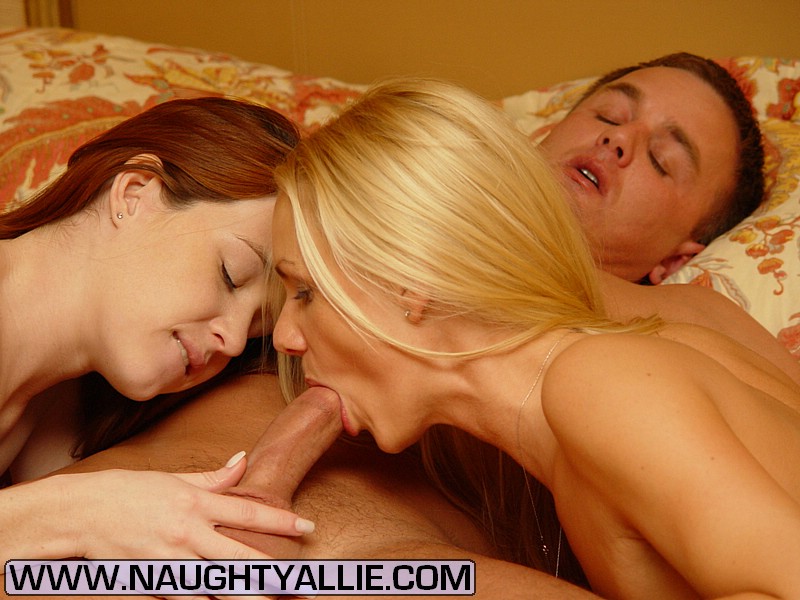 Suzi wanted a little tongue action. So she left his quivering cock in good hands. Chelle moaned hungrily as she took him into her mouth.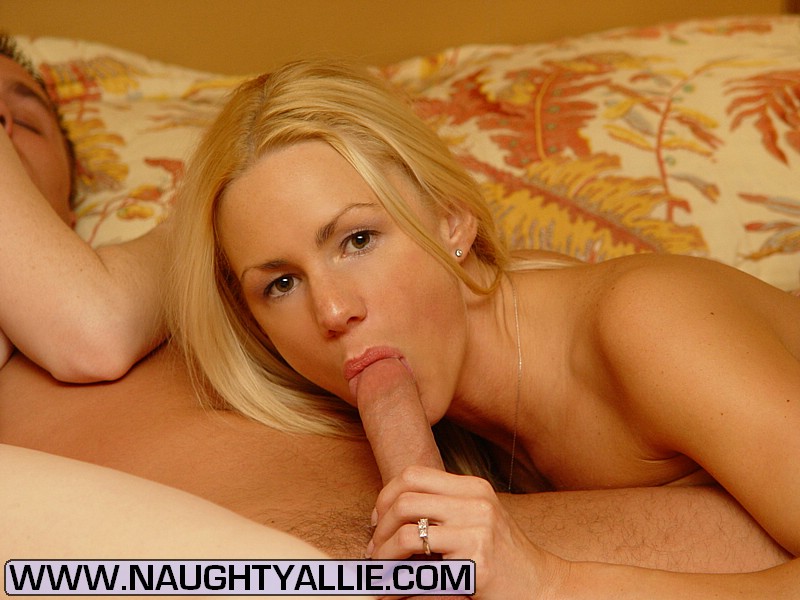 As Michelle licked, sucked and slurped, Suzi moved up and began nuzzling his neck, planting soft, wet arousing kisses. It caused him to shiver madly with desire. After all, she was supposed to be the one.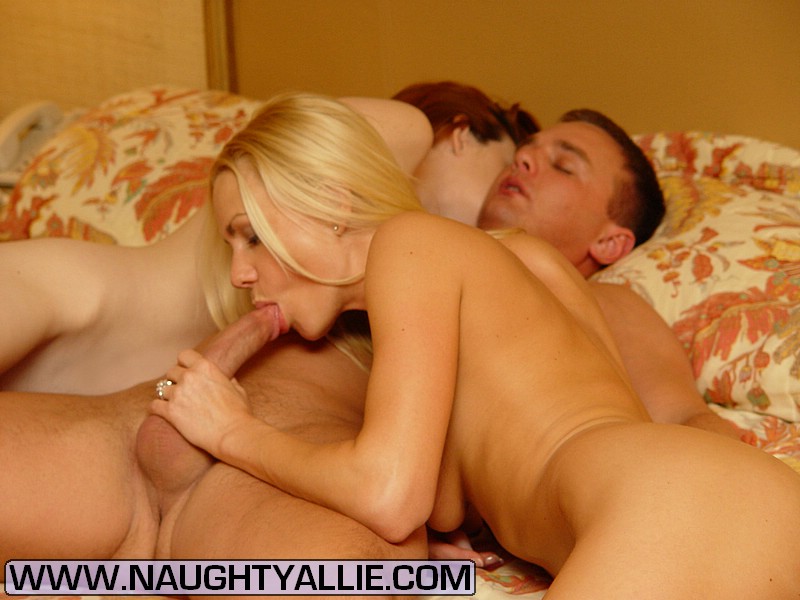 As Michelle sucked him down, Suzi plunged her tongue down his throat, probing excitedly. He moaned as he returned the gesture. His hand slithered around underneath her and started rubbing her ass.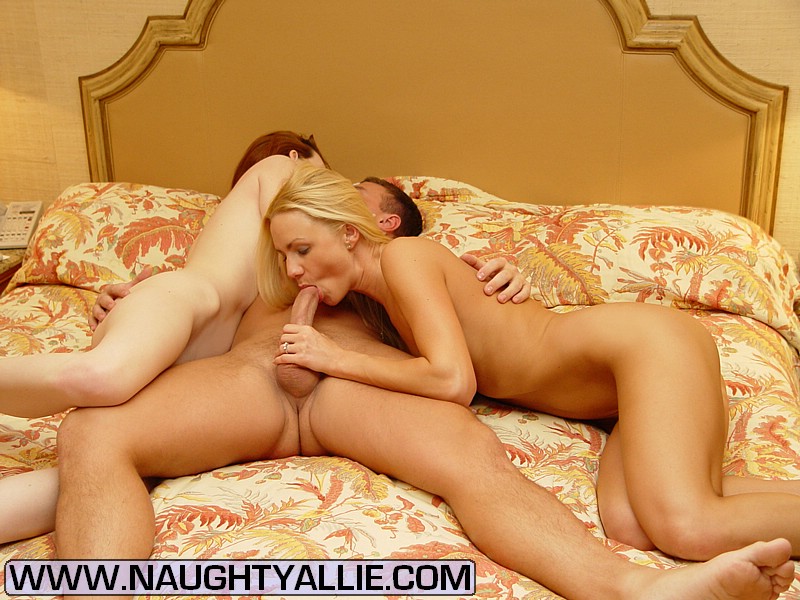 Suzi finally got hungry for some man-meat. Chelle gleefully traded places with her. But instead of kissing him, she straddled his head, granting him access to her shaved, dripping peach. As he began to feast, his hands roamed upward until he found her gorgeous mounds.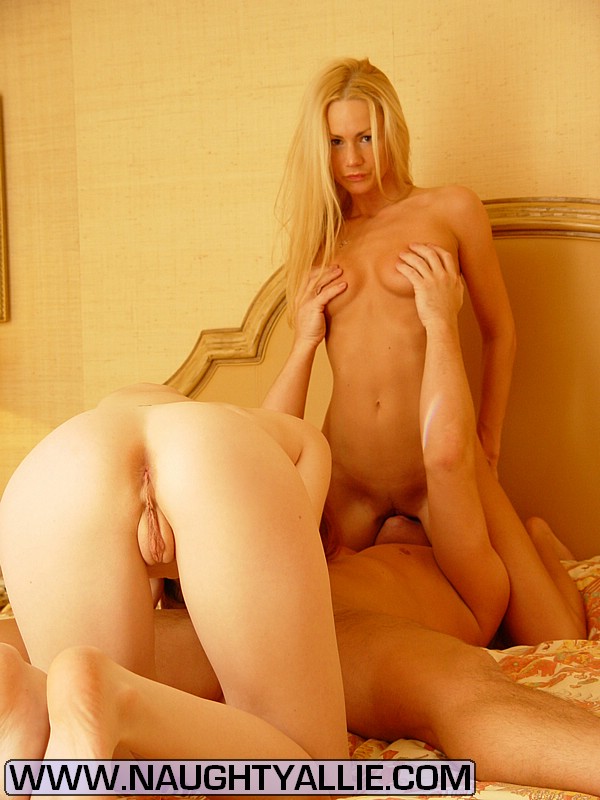 Michelle began to moan excitedly as his tongue probed her cunt. She couldn't help rocking on his face as he grabbed her butt. Meanwhile, Suzi sucked his throbbing manhood deep down her throat, moaning excitedly. She'd never tasted cock before and this was quite a treat. She was beside herself with excitement at making his cock spasm with her mouth and tongue.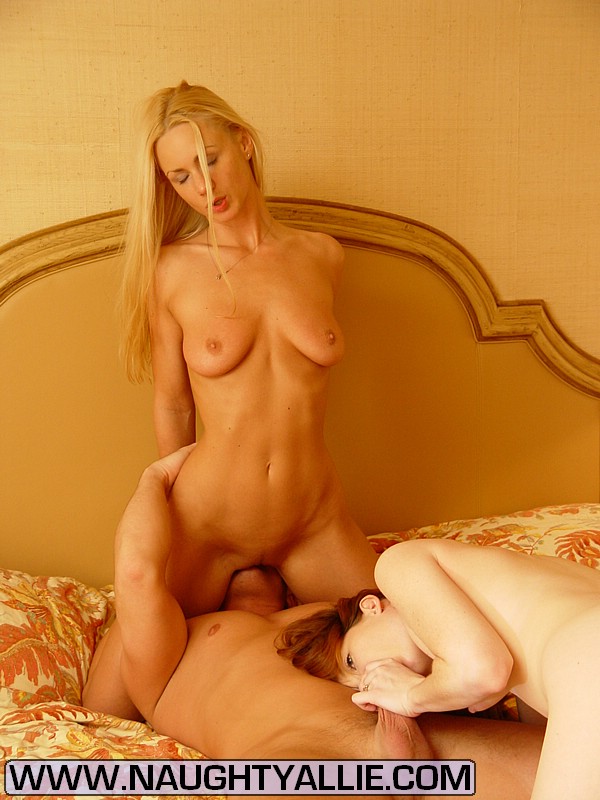 "Oh, FUCK!" Chelle gasped.  "Mmmmm!" Suzi moaned, her pussy wet with excitement. Both ladies were thoroughly enjoying the newcomer.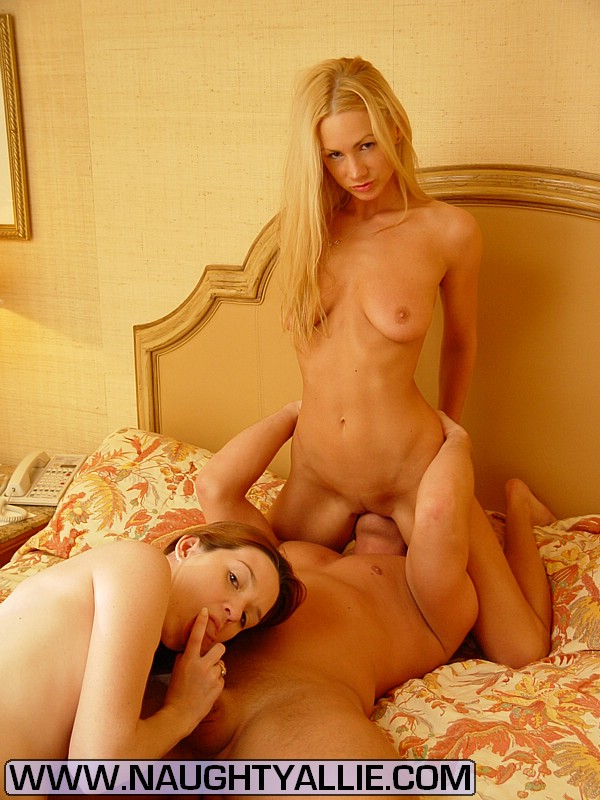 "Oh, fuck… oh fuck… OH FUCK!" Michelle shuddered in orgasm, humping his face excitedly as a blinding flash of pleasure flushed warmly through her body. Suzi moaned again, her pussy dripping at the sound of her lover's orgasm. It made her suck his cock harder, causing him to squirm.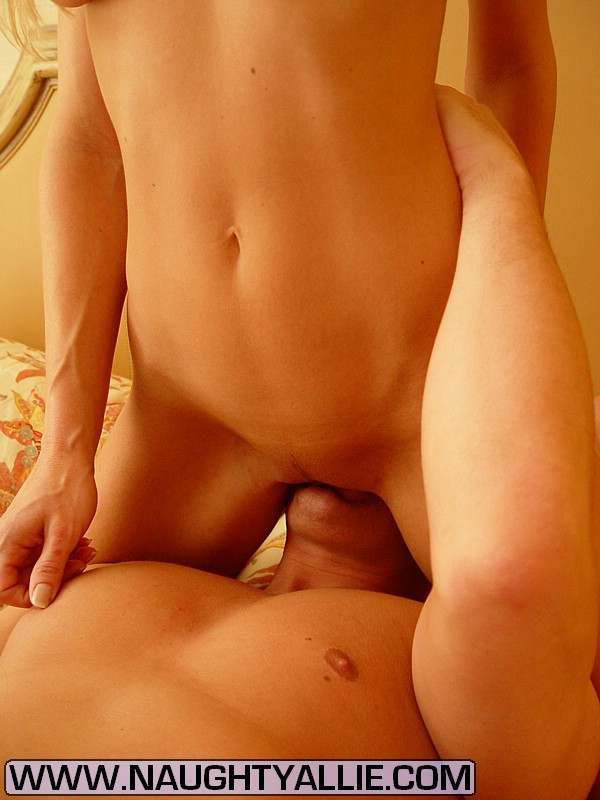 "Oh, FUCK, BABE – you GOTTA check this out!" Michelle gasped delightedly. Suzi looked up at her, her eyes flashing as she licked the head of his dick. "I think he's gonna cum soon," she said with a wicked chuckle.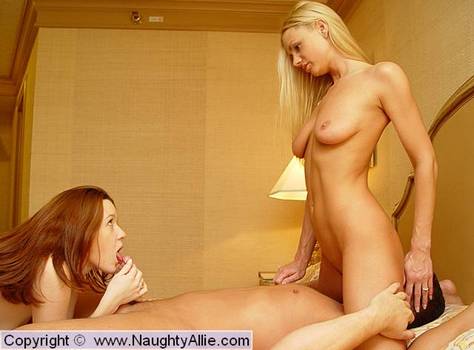 "SWITCH!" Suzanne yelled, and they quickly changed places. A moment later Suzi was straddling his face as she faced the headboard while Chelle took up the task of sucking on his quivering shaft. It was like he never stopped, simply exchanging one pussy for another. He gruntedas his tongue probed her cunt, causing her to moan as her head tipped back in pleasure.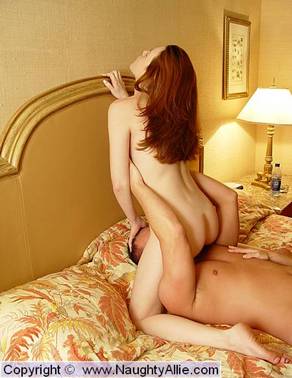 "Oh, FUCK – that's incredible!" Suzi gasped. A moment later his hands snaked up and began fingering her nipples. She moaned loudly, humping his face harder as her lover sucked him down. He began to grunt in ever increasing intensity. At the same time he started tonguing Suzanne harder as Michelle hungrily gobbled down his throbbing shaft.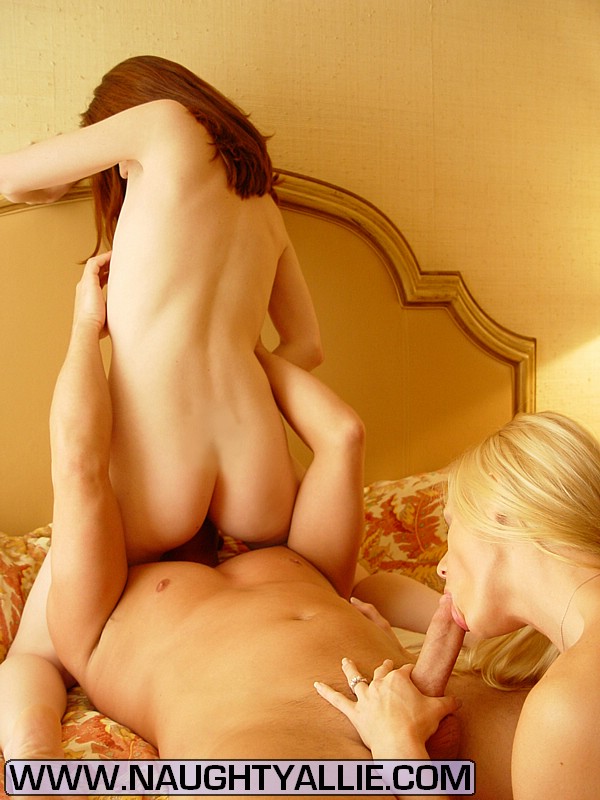 As Chelle increased her action on his cock, he sucked on Suzi's pussy with greater intensity, moaning and quivering and thrusting into her lesbian lover's mouth with grunts of pleasure. At the same time, Suzanne began crying out as his tongue seemed to probe ever deeper into her blazing cunt… "Oh, fuck – oh gawd – oh FUCK!"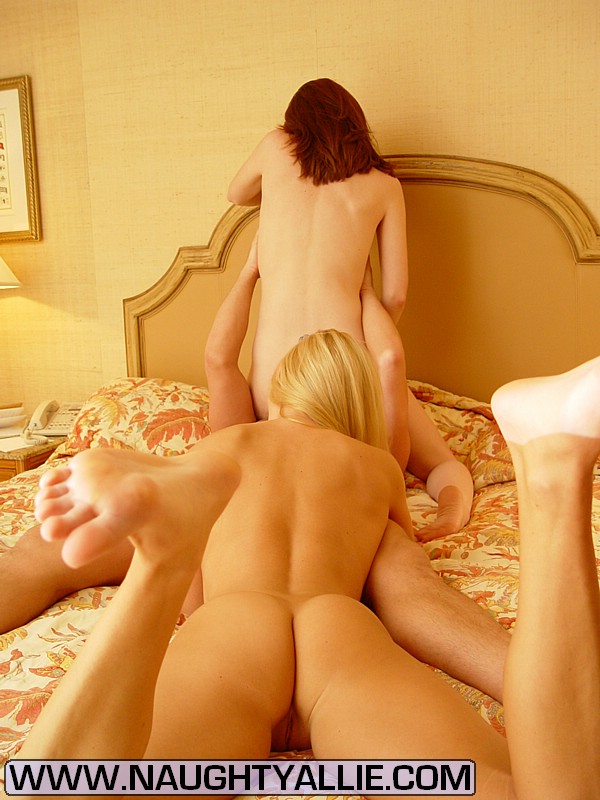 "UUNNGGHH!" …and his cock spasmed one final time, just before he erupted into Michelle's mouth. She groaned excitedly. Since become Suzi's lover it had been much too long since she'd tasted man-cum.
He closed his eyes and shuddered as he plunged his tongue deep into Suzi's cunt. She stiffened and then felt a massive explosion go off inside her as her world went white-hot with a searing orgasm. Her back arched and she screamed as cum spewed out of her cunt, flooding all over his face.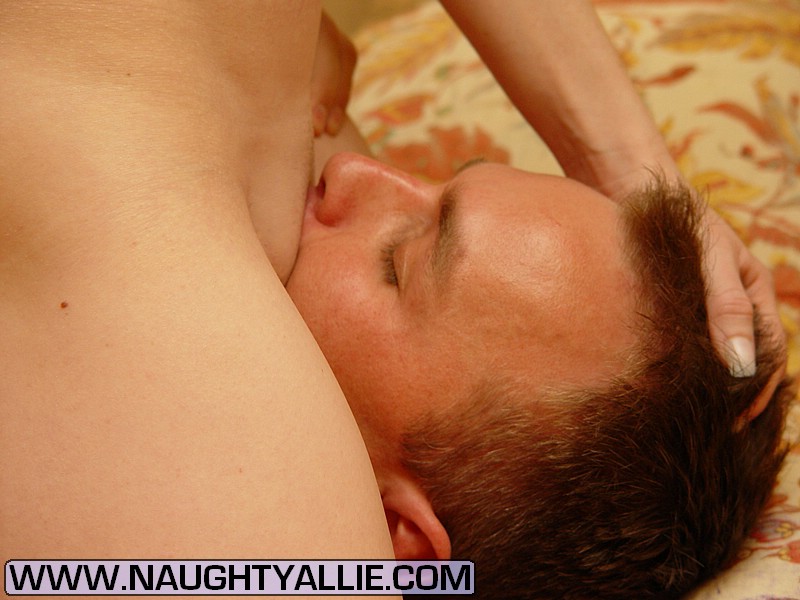 Suzanne weakly climbed off and turned toward her lover. Michelle was grinning from ear to ear. "That was fantastic! He eats pussy almost as good as YOU do!"
"Maybe so," Michelle said with a smile, "But I think I got the best meal of the day!"
"Fuck!" Suzi gasped. "And I missed it, too! Next time I get to swallow his cum!"
"Oh no. You want to ride his cock, Suz. That's reserved for the basement."
"That's right. Fuck; I'm really looking forward to it."
He looked at them both with dismay. "Right now, ladies?"
"Right now, Raymond. You agreed, remember. Everything all set? All your affairs in order?"
He nodded. Then he asked, "Will I get to fuck a pussy?"
"Of course you will. That's the agreement, right? You'll be the first cock Suzi ever takes in her sweet snatch! We promised; remember?"
He nodded. "Ok, ladies. I'm ready."
The women got up and excitedly led him downstairs to the basement. The frame came into view and he gasped. Seeing it scared him while at the same time giving him an erection.
"We're really looking forward to this," Michelle told him.
"Yes we are," Suzanne added. "We got this all set up the moment we knew you were coming."
Their hands roamed his naked body as he stared at the guillotine. So they were really going to behead him for letting him be the first cock Suzi had ever taken up her cunt, eh? Well, he'd certainly agreed to this.
The ladies became all breathless and aroused. Their hands were all over him, both of them gushing how this was going to be so exciting. Then he asked, "So how's this going to happen?"
"Oh, we already decided Suzi will be riding you the moment the blade falls. You'll be her first, remember? If we like it, we're liable to try this again someday. Now get on your back like a good little snuff-toy, Raymond."
He laid on the cushioned bench on his back. The ladies slid him through and then brought down the lunette over his neck. Looking up he saw the blade dangling ominously above his head.
"What about my arms, ladies?"
"You promise not to try to lift the lunette off your neck or to stop your beheading?" They were now sitting down on either side of him, one of them stroking his cock. He couldn't see so he wasn't quite sure which one it might be.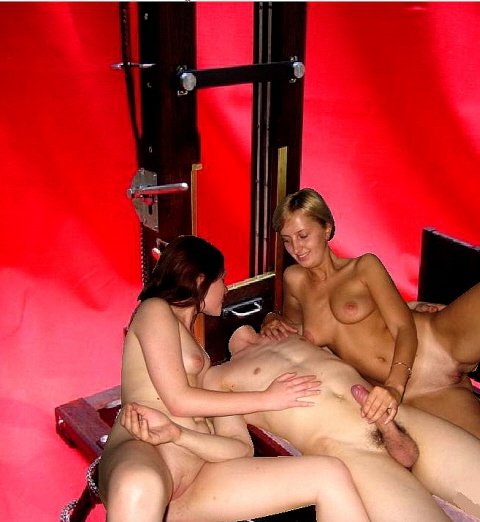 "I promise."
"Then you get to do this." That's when they took his hands and put them on their breasts.
He felt them both up, fondling and caressing them as they played with his cock. They moaned with delight as they stroked him. They even moved his hands so he could feel their wet, dripping slits.
The closer the big moment came, the more turned-on they seemed to become. "Jerk your meat for us, Raymond; Ok?" So he reached down to masturbate as they leaned over and kissed each other. Then they each took a turn sucking on him.
He began to thrust into their mouths as they took turns. "I think he wants your pussy, Suz. His cock acts like he wants to fuck."
"Yeah, I'm definitely ready to fuck, ladies."
"Go for it, Suz! Now's your big moment!"
Suzanne straddled his cock. Then she slowly inched him into her pussy while holding onto her hips. "Fuck; is THIS what it feels like?"
"That's what it feels like, Suz!" Michelle giggled.
"Gawd, this isn't like your strap-on at all!"
"No, it's not!"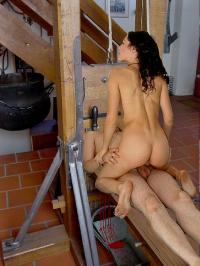 Suzanne began bouncing up and down on his dick. He used the freedom of his hands to reach up and caress her boobs. She gasped with delight, enjoying her first male.
"Fuck, Chelle… you gave this up for me??"
"That's 'cause I love you so much, Suz. I love you enough to do this for you. Now let me know when you're about ready to cum, ok?"
Suzanne nodded as Michelle stepped up to the lever. Raymond gasped, his cock stiffening even more inside her. Suzi gasped, "Oh fuck; I think he just got bigger in me!"
"Let me know when you're ready, Suzi. I want you to have the best ever."
Raymond looked up at his executioner and nervously asked, "What happens to my uh… well… you know?"
"Oh we're keeping your head, Raymond. I want Suz to remember you! But your body goes to a cannibal group we know. They'll be here as soon as we call them. But we'll probably have some fun with your body first."
"Fun? What kind of fun?"
"Oh, you'll find out."
Suzanne began eagerly bouncing up and down. "Fuck, this feels… ohmygawd, Chelle! This feel so fucking… I can't believe a man's cock is going to make me…!!"
"Are you going to cum, Suz?"
"Just about!"
Michelle leaned down and kissed Raymond on the lips before telling him, "Thanks for doing this for Suz and I." Then she giggled. He gulped anxiously as he gasped for breath, his cock swelling even more inside her as he sensed his life was about to end.
"Oh fuck! Fuck; I'm going to… OHMYGAWD, CHELLE; I THINK I'M GONNA…"
"Bye, Raymond," Michelle said as she pulled the lever. The blade fell with frightening speed, bottoming out with a loud THUNK. A moment later his head just wasn't there anymore as it dropped into a waiting wicker basket.
His body jerked upward as though he was trying to fuck Suzanne in return. She let out a cry as she started to climax. Feeling his cream erupt inside her sent her right into orbit.
She became dizzy and disoriented as the orgasm just kept rolling and rolling inside her. Her cunt instinctively squeezed around the dick inside her as he kept hitching and spasming. "Gawd; he's spurting so much inside me, Chelle!" And with that she went off again.
She cried out as she started to fall over. Michelle pulled his head up so he could see what was going on, briefly kissing his lips. Then Suzanne fell off, tumbling onto the floor in a blissful haze.
Michelle took advantage of the situation by climbing aboard and taking his cock inside her. He was still hard and twitching. Fuck; it felt good!
Delirious with pleasure, she kissed his lips again. Then she mashed his face down against her crotch near her swollen nub as much as she could. It triggered an orgasm of her own.
For the next couple of hours the girls used his head to get them off, mashing his lips against their swollen cunts. They sucked his cock as hard as they could get it before trying to ride it again. But eventually no amount of sucking could get a rise out of the corpse anymore.
They finally called that cannibal group who came and took the body away. But the head went in a special place. Afterwards they often looked at it for inspiration, resulting in them falling into such an aroused state that they had to fuck each other silly while he silently observed their lovemaking. Then they began considering the possibility of allowing another man to come over. Maybe this time they could pretend Michelle was the one who'd never taken a cock before to sell him on the idea of a beheading in exchange for breaking in a lesbian.
© 2006; 2017 (written Jun 6 '06; ed. Dec 31 '17 by riwa)
(Pictures are from NaughtyAllie.com and are for illustration purposes only.)
Trio (beheading)

,